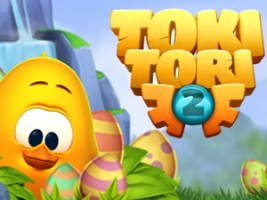 The giant chicken at the center of Toki Tori 2 is the hightlight of this week's Nintendo Download. The puzzle platformer marks the continuation of Nintendo's push to get indie developers on the Wii U eShop and its available to download for $X.XX.
Also available this week is the classic 8-bit platformer, Castlevania. Downloadable on the 3DS for the first time, the first adventure of the original "vampire killer," Simon Belmont, is joined by Real Heroes: Firefighter 3D and Gabrielle's Ghostly Groove 3D.
And over on the Wii's Virtual Console, Nam-1975 (originally released for the NeoGeo) is now available to download.
Additional details for all of these titles can be found after the break.
Wii U eShop
Toki Tori 2 – The player controls a chubby chicken whose only available actions are a whistle or – using his weight – a stomp on the floor. These actions are all the player gets to work with throughout the game. The diverse roster of creatures and their reactions to these two actions, deliver an easy to grasp yet deep puzzle mechanic.
3DS eShop
Castlevania – Step into the shadows of the deadliest dwelling on Earth. You've arrived at Castlevania, and you're here on business: to destroy the curse of the Evil Count, once and for all. Make your way through six monstrous floors filled with bats, ghosts, zombies, and every kind of ghoulish creature you can imagine. Use the legendary whip Vampire Killer and a host of deadly weapons to battle your way to Dracula's chamber and the ultimate duel of good vs. evil.
Real Heroes: Firefighter 3D – n this first-person fire & rescue action game players will enter the soot-stained boots of an everyday hero as a newly graduated academy cadet getting their start in a big city fire station. Players must use the tools of the trade like the axe, hose and saw to battle raging blazes, tackle explosive environments and rescue survivors.
Gabrielle's Ghostly Groove 3D – Gabrielle's having a bad day. She sneezed her soul right out of her body! She'll have to travel to Monsterville, the home of all things that go bump in the night, to get help. Only by busting out the ghostliest dance moves and thrilling and chilling people will she be able to scare up the power she needs to get herself back into her body! It's a spooktacular rhythm adventure!
Wii Virtual Console
Nam-1975 – "The roar of the helicopters overhead snaps us back into reality. We will never forget the nightmare of that summer…"