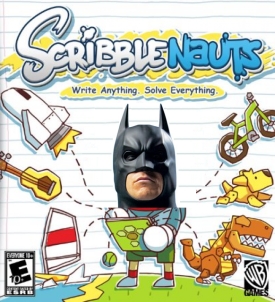 IGN is reporting that Sribblenauts Unlimited developer 5th Cell is hard at work on the next game in the series, a Scribblenauts game set in the DC Comics Universe!
According to their tipster, the game is currently being developed under the working title "Scribblenauts Unmasked" for the 3DS, PC, and Wii U. IGN's source states that publisher WB Games wants to announce it at this year's E3 Expo, but "the title, content, and main character may change before it is announced." Of course, since no one knew Scribblenauts Unmasked even existed until a day or so ago, making changes to what is more or less a prototype shouldn't raise any alarm bells (or Bat Signals).
The tipster described a few of the puzzles, which give off a Scribblenauts feel while still clearly taking place in the DC Universe:
One source describes a linear level beginning in the sewers beneath Wayne Manor where a hungry Killer Croc won't let Max proceed. When a hamburger isn't enough, a dynamite sandwich sends Croc into a rage leading to his arrest. Robin keeps the situation under control, allowing Max to make his way inside Wayne Manor (where Batman has been manipulated by The Joker) before discovering Batgirl's capture in the Batcave.

In another situation, Max encounters two police officers, and must decipher which one is legit and which is actually Clayface. An X-ray exposes the villain, and when handcuffs fail to stop the sludge-monster, a freeze-gun does the trick.
If Scribblenauts Unmasked is for real, now we really can ask, "Where does he get all those wonderful toys?"