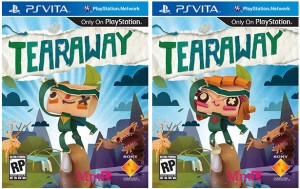 Media Molecule has revealed the boxart and release date for their upcoming PlayStation Vita title Tearaway. Tearaway will hit shelves on October 22, it will also come with a reversible cover that shows Iota and Atoi on either side.
Players will control one of two messenger buddies around the vibrant, papery worlds, allowing them to poke holes in the terrain, unfold bridges, blow things around, and paint the local wildlife in whatever color they feel.
Media Molecule's Community Manager, James Spafford, told the PlayStation Blog more about the game, saying: "You'll uncover a magical dimension inspired by folklore, and built realistically from paper that unfolds and comes alive before your very eyes. As you explore this world you'll meet the papercraft creatures that live within it, help out strange new friends and encounter dangerous challenges."
Rex Crowle, the Lead Designer on Tearaway, spoke a bit about the title in a video interview that also shows off a lot of Tearaway's gameplay. You can find it after the break.