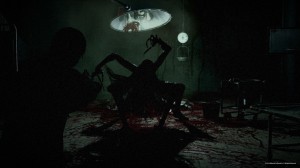 Last week, Bethesda announced that the legendary Shinji Mikami is working on the upcoming survival horror title The Evil Within. Yesterday more details about the game plus some frightful screenshots of the title has been revealed.
In The Evil Within you play as Detective Sebastian Castellanos, he comes across unnatural forces around an asylum and, after being knocked unconscious, Sebastian wakes up in a world where monsters really do exist.
Speaking to IGN earlier this week, Mikami-San spoke of his desire to bring back the survival horror genre saying, "[T]he thing that I want to focus on [with The Evil Within] is having the perfect balance between horror and action." He also spoke about how having limited ammo brings excitement to the game and he mentioned the game will lack heavy weapons like assault rifles to blast through your foes.
The Evil Within releases in 2014 on the Xbox 360, PlayStation 3, PC, and "next-generation consoles." You can check out the first screenshots after the break.