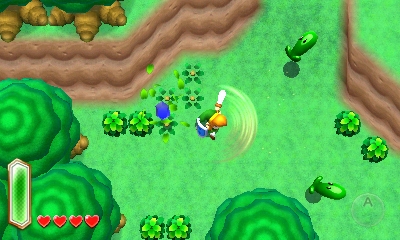 Nintendo announced the first original Legend of Zelda game for the 3DS this afternoon and, as expected, it's a sequel to the Super NES fan favorite A Link to the Past. The game, which is tentatively known as The Legend of Zelda: A Link to the Past 2, will be released during the 2013 holiday season.
The sequel will employ the same top-down perspective that fans have come to know and love, but this time with the addition of the 3D abilities the 3DS is known for. Besides a multi-leveled world, Link is also able to transform into a drawing and walk along walls (and through cracks in the wall) in this new Zelda adventure.
A gameplay video for The Legend of Zelda: A Link to the Past 2 made its debut during today's Nintendo Direct presentation. You can check it out on YouTube now or download it from the 3DS eShop.