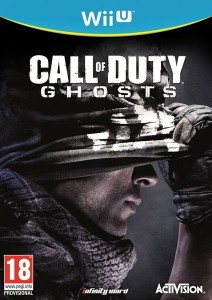 When Activision announced Call of Duty: Ghosts yesterday, a Wii U version of the game went unmentioned. As of right now, the November 5 release date only applies to the PC, PS3, and Xbox 360 versions of the game. Officially, the only "next-generation" version of Ghosts that exists is the one that will be revealed during Microsoft's Xbox 720/Durango presentation on May 21.
But don't count the Wii U out just yet.
In a statement to Examiner.com, an Activision spokesman said: "We don't have any news for the Wii U at this time, as we aren't dating next generation platforms yet. Stay tuned."
So it looks like the Wii U version has been lumped in with the Xbox 720 and PS4 versions of the game, even though Nintendo's system is available now. And while leaked boxart (like the Wii U version of Ghosts seen to the right) isn't a perfect predictor of a game's existence or non-existence, I think that image (along with Activision's comments) should give Wii U owners plenty of hope for a Call of Duty: Ghosts release this November.