Beatbuddy is a super adorable side-scrolling rhythm game made by a small German company named Threaks. It was on the show floor at PAX East, and after seeing their adorable plushy mascot on backpacks all over the expo floor, I needed to find out what this game was all about. Not only do they have a great little fellow to promote their game, they've also got fantastic gameplay to back it up. I was more than happy with Beatbuddy, and I was ready to stand there and play it for another hour, if they'd let me.
Platforms: PC
Publisher: Reverb Publishing
Developer: Threaks
Genre: Underwater Musical Puzzler
Release Date: Summer 2013
ESRB Rating: Rating Pending

Beatbuddy, a musical creature, lives in an ecosystem that is all built on music. The prince, who is in love with music, holds concerts which begin to change the ecosystem of the world to create bigger sounds and music. This draws music parasites, which start to interfere with the world and attack its people, so the prince's army fights them, and that's where our cute little protagonist comes in.
Beatbuddy started as a university project for the members of Threaks three and a half years ago, but has grown and evolved into a gorgeous game with incredible application of music. Each level is based around a song, and all the parts of the song create the mechanics of the game. The music gives you audio clues of what you're supposed to do next – if you can figure out the beat, you can figure out how to progress. Be it snare drums, bass, or vocals, each part is beautifully linked to your actions as you bounce around inside the levels.
Threaks didn't skimp on the music end either as each level's music is done by a different musician. The biggest name is Austin Wintory, best known for his award-winning soundtrack for thatgamecompany's Journey. His track is an electro-jazz classical song, which sounds absolutely amazing just from that description. There's also a level with a track done by chiptunes artist Sabrepulse as well, who did the soundtrack for Trine.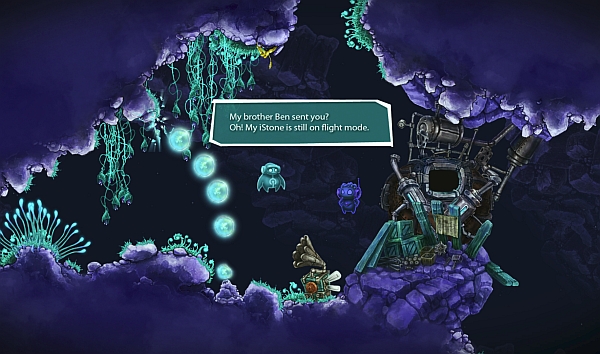 The game's not just about the music, either. The gorgeous, hand-painted style of the levels is like nothing I've seen before. Swimming around in the water as Beatbuddy was beautiful, and learning how to use the mechanics was intuitive and so much fun it had me smiling through the entire thing. This innovative game is sure to make heads spin once it comes out in a few months.
Beatbuddy will be out this summer, but if you can't wait that long, you can try the demo out on Steam right now. It's just a small taste of what's to come, but it's worth it to check out this lovely little game. Be sure to tap your feet to the rhythm and keep Beatbuddy on your radar.