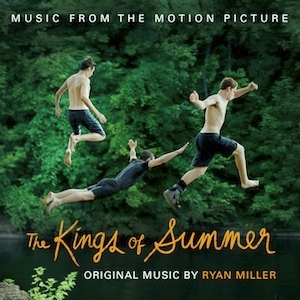 Ryan Miller's day job is being the lead singer of Guster, one of the greatest bands you will ever hear. When he's not performing with Guster, Miller likes to spend his time composing film scores. His latest soundtrack is for the coming-of-age story The Kings of Summer.
The Kings of Summer is about a group of teenagers who run away from their parents and camp out in the woods. But rather than get all heartfelt and emotional, Miller saw the courage in it and looked to legendary Nintendo composer Koji Kondo for inspiration, specifically his work on Super Mario Bros. and The Legend of Zelda. The film's director, Jordan Vogt-Roberts, even acknowledges this debt in the soundtrack album's liner notes:
"The idea was that if kids from this generation were running away into the woods, the closest experience they could draw upon would be playing an adventurous video game. So the sounds that are guiding an audience should reflect that."
The Kings of Summer soundtrack is now streaming (for free) at Paste Magazine and I highly recommend giving it a listen. It will be available to purchase on iTunes, Amazon, and other digital stores this Tuesday, May 28. The film will open in theaters next Friday, May 31.