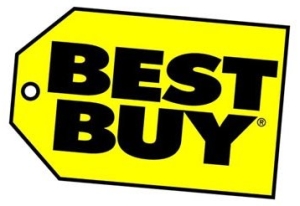 Nintendo and Best Buy are bringing E3 2013 to the people. Or rather, to the people that live within driving distance of select Best Buy stores across the US and Canada.
Nintendo will bring some of the same Wii U demos they're showing at this year's E3 Expo to 110 Best Buy stores this June. The Wii U demos will be playable at select Best Buy stores on Wednesday, June 12 from 4:00 PM to 8:00 PM and on Saturday, June 15 from 1:00 PM to 5:00 PM. Nintendo has yet to announce which titles will be playable at their Best Buy showcase, but the publisher has confirmed that Mario Kart Wii U, the first 3D Super Mario game for the Wii U, and Sonic: Lost World will all appear at this year's E3 Expo.
The complete list of US Best Buy locations that will host Nintendo's E3 demos can be found after the break. Canadian demo locations will be announced at a later date.
Alabama
Birmingham
Huntsville
Arkansas
Fort Smith
North Little Rock
Arizona
Phoenix
California
Culver City
Elk Grove
Emeryville
San Jose
Tracy
Visalia
Colorado
Denver
Connecticut
Manchester
Delaware
Wilmington
Florida
Brandon
Fort Myers
Gainesville
Kissimmee
Miami
Pensacola
Georgia
Augusta
Duluth
Savannah
Smyrna
Iowa
Cedar Rapids
West Des Moines
Illinois
Bloomington
Schaumburg
Indiana
Greenwood
Kansas
Overland Park
Wichita
Kentucky
Florence
Lexington
Louisville
Louisiana
Harvey
Massachusetts
Cambridge
Dedham
Worcester
Maryland
Frederick
Glen Burnie
Wheaton
Michigan
Ann Arbor
Flint
Grand Rapids
Rochester Hills
Minnesota
Eden Prairie
Missouri
St. Louis
North Carolina
Cary
Fayetteville
Pineville
Winston-Salem
New Jersey
Iselin
West Paterson
Woodbury
New York
Albany
Amherst
Long Island City
Syracuse
Valley Stream
West Nyack
Ohio
Fairborn
North Olmsted
Reynoldsburg
Toledo
Oklahoma
Oklahoma City
Oregon
Portland
Pennsylvania
Erie
King of Prussia
Pittsburgh
Reading
Whitehall
South Carolina
Greenville
North Charleston
Tennessee
Brentwood
Knoxville
Memphis
Texas
Arlington
Austin
Houston
McAllen
The Woodlands
Tyler
Utah
Sandy
Virginia
Charlottesville
Glen Allen
Virginia Beach
Vermont
Williston
Washington
Lynnwood
Wisconsin
Greenfield