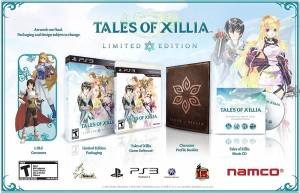 Namco Bandai has announced that a Tales of Xillia Limited Edition will be available when it's released in the US and Canada on August 6.
The Limited Edition has been priced at $59.99 and will include a copy of the game, special packaging, two DLC costumes, a soundtrack CD, and a Character Profile Booklet. Every Tales of Xillia pre-order will be upgraded to the Limited Edition, which will be limited to the game's first printing.
A separate Collector's Edition, which includes the soundtrack CD, a Milla Maxwell figurine, and a Tales of Xillia Art Book, was previously announced by Namco Bandai.