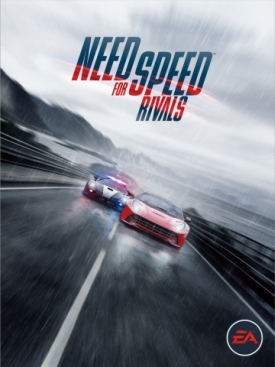 Criterion Games is taking the year off, but Electronic Arts will have a new Need For Speed game this Fall when Need For Speed Rivals launches for the PC, PS3, and Xbox 360 on November 19. A PS4 and Xbox One version will also be released before the end of the year.
Rivals is in development at Ghost Games, an internal EA studio in Gothenburg, Sweden that spun off from DICE earlier this year. Using the Frostbite 3 engine, Rivals "captures the adrenaline and intensity of the street's ultimate rivalry between cops and racers in a stunning open road environment."
In Need for Speed Rivals, gamers play as either a cop or racer, where each side of the law has its own set of high stakes challenges, rewards and consequences. As a racer, the goal is to become infamous for taking risks behind the wheel and capturing your most intense escapes on video for the world to see. The more cops players evade, the more Speed Points they collect, enabling them to unlock new cars and items. Keep raising the stakes race after race to become an ever-more valuable target to the cops – but risk losing it all if busted. As a cop, players work together as part of a team in pursuit of racers, earning prominence and rising in the ranks of the Police Force with every bust. Achieving higher ranks unlocks new police-only cars and more powerful pursuit tech.
Need For Speed fans will be pleased to know that Ferrari returns to the franchise for the first time since 2006's Need For Speed Carbon. A hybrid single-player/multiplayer online mode known as AllDrive, which allows players to "seamlessly transition from playing alone to playing with friends."
EA has also announced that if you pre-order Need For Speed Rivals, you'll receive the "Ultimate Cop Pack" for free. The pack includes the Nissan GT-R Black Edition police car, "advanced pursuit technology," and "a custom livery."