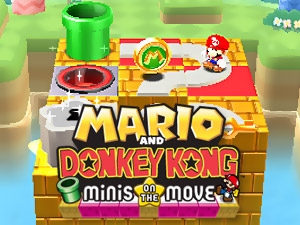 The Mario and Donkey Kong series never seemed to catch on with gamers like some of Mario's other sideline franchises. But that hasn't stopped Nintendo from producing new games in the series and the fifth, Mario and Donkey Kong: Minis on the Move, is available on the 3DS eShop starting today. SpeedX 3D: Hyper Edition, a tunnel racer, has also been added to the 3DS eShop this week.
Three other games and a demo are also available this week…
Xevious and Solomon's Key come to the Wii U Virtual Console
Publisher Dream, a "game design tycoon" game, is available on the DSiWare Shop.
And finally, a Resident Evil Revelations demo will be added to the Wii U eShop on May 14.
More information on all of these titles can be found after the break.
3DS eShop
Mario and Donkey Kong: Minis on the Move – Test your puzzle-solving skills in this spinoff of the Mario vs. Donkey Kong series. Use tiles to create the best path through each level. The main game contains more than 180 levels, spread across four different puzzle modes. Although each mode has a slightly different style of play, they all share the same goal: Get the Minis to the star.
SpeedX 3D: Hyper Edition – You won't believe what's possible in a tunnel racing game! Speedx 3D Hyper Edition is the fastest tunnel racer ever! Be amazed by its enhanced visuals, start your run with just one tap on the screen and experience incredible thrills as you race through the new location. Speedx 3D Hyper Edition offers new music tracks, improved controls and even faster gameplay. Trigger Hyper mode, collect shields and boosts and see how far can you go! Oh, and don't forget to wear your headphones; the new music tracks make Speedx 3D Hyper Edition sound like never before!
Wii U Virtual Console
Xevious – Control the Solvalou Fighter plane and destroy the Xevious forces in this classic arcade shooter. Fire the Zapper missiles against air-based enemies, and drop the Blaster bombs down upon ground-based targets to earn bonus points and beat the high score.
Solomon's Key – As Dana, a skilled and talented hero, you must strategically maneuver through more than 40 stages using mysterious block-creation skills and other magical powers. Free the captive Fairy in each stage by finding the Bell, and escape by grabbing the Magic Key.
DSiWare Shop
Publisher Dream – Ever dream about making and publishing your digital games? Now you can! Publisher Dream is a simulation game that places you in the owner's seat of a company called "Triangle". Triangle focuses on a digital platform call "cShop" for development and publishing endeavors.