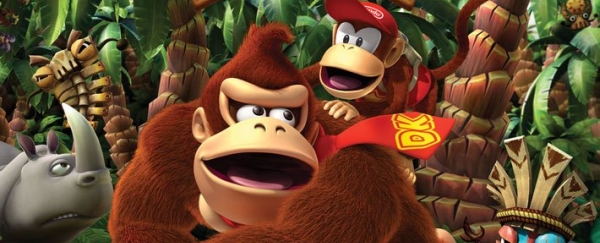 Donkey Kong Country Returns makes the jump to the 3DS tomorrow as, not surprisingly, Donkey Kong Country Returns 3D. It'll be available in stores and on the 3DS eShop.
But the true star of this week's Nintendo Download is Kirby. The pink puffball stars in three new games added to the Wii U Virtual Console today: Kirby's Dream Land 3, Kirby's Dream Course, and Kirby Super Star. Regularly priced at $7.99 each, if you buy any two of the games before May 30, you'll get the third free.
Let's see… also available this week is the 3DS rhythm game Groove Heaven and Naruto: Powerful Shippuden, a side-scrolling brawler based on the popular anime.
More details about all of these games can be found after the break.
Wii U eShop
Kirby's Dream Land 3 – Kirby must once again save the day when the mischievous King Dedede starts causing trouble. Always armed with his trusty ability to swallow enemies and gain special attacks, Kirby can also unite with some of his animal friends and make use of their particular talents. Featuring detailed graphics and challenging boss battles, Kirby's Dream Land 3 is a classic.
Kirby's Dream Course – High above Dream Land, players can pitch and putt Kirby through a maze of obstacles on a zany checkerboard golf course. Kirby's Copy Abilities must be put to good use in order to complete each course. Players must sink Kirby into the hole to advance to the next stage as they clear all eight courses – 64 holes in all.
Kirby Super Star – In Kirby Super Star, the iconic round, pink hero will have to journey through six main games and two mini-games, finishing with the ultimate showdown in the Arena, to defeat King Dedede. Each game offers its own story and variation of platforming action, as well as unique environments and an assortment of enemies. There's never a dull moment as Kirby dashes, flies and fights.
3DS eShop
Donkey Kong Country Returns 3D – Donkey Kong swings to the Nintendo 3DS system in this barrel-blasting, rail-riding, ground-pounding adventure. The original Donkey Kong Country Returns game has been rebuilt and optimized for portable play. Play the game in Original Mode or New Mode, and unlock eight new, challenging levels not available in the original Wii game.
Naruto: Powerful Shippuden – A whole new side-scrolling Naruto game developed exclusively for the Nintendo 3DS focused on cutesy presentation, comical character style & easy to pick-up-and-play gameplay for fans of all ages.
Groove Heaven – Rhymi has to deliver a love letter to a beautiful angel only she is a little demon and the letter is from the Devil lord himself. Climb with her to the top of the tower connecting two realms armed with your best dancing moves! Time your steps right, keep to the beat to get moving and grooving away from oncoming danger! Dance under leaping frogs and past black crows, as you collect musical notes and red roses for bonuses. In two bubbly and exciting modes challenge your musical senses either dancing your way to the top, or simply testing how fast you can keep up with the beat! Show off your rhythmic skills and tap your way to Heaven!