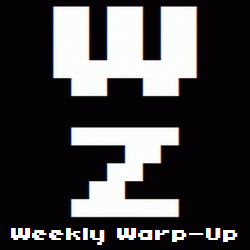 No, that's not a typo. Welcome to the Weekly Warp-Up, your weekly wrap-up of the biggest and the best articles posted at Warp Zoned this week…
Microsoft lifted the curtain on their next generation console, the Xbox One, this week. More than a mere console, the system will be bundled with a new Kinect sensor and take over your cable box. A hefty feature set will allow multiple apps to run the background in something called "Snap Mode." And like the PS4's Share Button, the Xbox One will be equipped with a "Game DVR."
But what about games? Microsoft mostly stayed quiet about the system's game content (preferring to announce them at E3), but they did reveal a bunch of new titles from EA Sports (FIFA 14, Madden NFL 25, NBA Live 14, EA Sports UFC), Forza Motorsport 5 from Turn 10, Quantum Break from Remedy, and Call of Duty: Ghosts. All together, Microsoft plans to release 15 Xbox One-exclusive games in the system's first year as well as Halo: The Television Series.
But then the problems began. It soon came to light that the Xbox One won't be backwards compatible with Xbox 360 and Xbox Live Arcade games. And it turned out that used games will be heavily regulated thanks to a requirement that all games must be installed to the hard drive. To top it all off, Microsoft expects the Xbox One, PS4, and Wii U combined to sell ONE BILLION consoles. That's just insane and makes us wonder if the Xbox 360 was just a fluke. Actually, we think this comic sums it up quite well.
Of course, Microsoft can still bounce back. And we expect them to. In fact, all three console manufacturers can have a great E3 Expo (and beyond). We explain how in our look at The Roadmap To Victory for Microsoft, Nintendo, and Sony at E3 2013.
And on a totally unrelated note, we offer suggestions on "How To Get More Coin For Your Game Project" in the latest edition of Kickstart This!
You can find more news from the week after the break.
The Week in New Games…
Amazing Paperboy Delivers…
It's A Secret To Everybody…
And Finally…
Ryan Miller, the lead singer of the great alternative rock band Guster, found inspiration in classic NES games when he composed the Kings of Summer soundtrack. Definitely worth a listen.