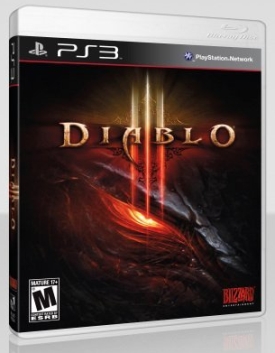 Today, Blizzard announced that Diablo III will make the jump to consoles on September 3. Yes, consoles, plural. Surprising no one, the developer revealed that the game will be released for the Xbox 360 in addition to the previously announced PS3 version.
"Playing Diablo III on a big screen with your friends brings a whole new level of intensity to the game, and with all of the control and interface adaptations we've made, it's extremely fun to play on PS3 and Xbox 360," said Mike Morhaime, CEO of Blizzard Entertainment. "In addition to the fine-tuning we've done for the console versions, we're also including major content and design updates we've made to the PC version over the past year, so players can expect an epic Diablo gaming experience when the PS3 and Xbox 360 versions launch in September."
Players who pre-order Diablo III for the PS3 or Xbox 360 (which will retail for $59.99) will receive a special in-game item: the Infernal Helm. Any character wearing the Infernal Helm will receive an experience point boost, "accelerating their progression as they rise in power." Retailer-specific pre-order bonuses will also be available.
Diablo III is also in development for the PlayStation 4 and will presumably be available as a launch title for Sony's next system. After today's announcement of the game for the Xbox 360, I also fully expect an Xbox One edition to be announced soon.