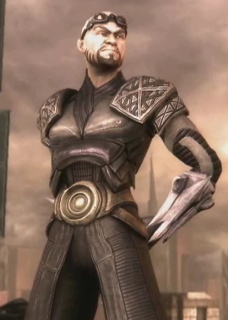 The latest "Clueless Gamer With Conan O'Brien" segment from his TBS talk show, Conan, aired on Wednesday and it featured NetherRealm's Injustice: Gods Among Us. It also featured the debut of the next DLC character… General Zod!
Zod will be available to download in July through the PlayStation Store and the Xbox Live Marketplace. Presumably, he will carry the same $5/400 Microsoft Points price as all of the other DLC characters.
But Conan wasn't done. He also debuted The Flaming C, a Conan-like reskin of Superman designed by Bruce Timm. It's unknown if this skin will actually be added to Injustice, but gameplay footage of The Flaming C kicking ass and taking names was shown on Conan.
You can watch the full segment after the break.