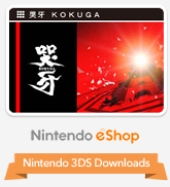 Ikaruga and Gradius V fans take note, Hiroshi Iuchi's next game as Director, Kokuga, is now available to download from the 3DS eShop. Kokuga is a top-down shooter (naturally) that also throws in a card-based powerup system.
Also available this week on the 3DS eShop are a trio of Game Gear titles (Sonic the Hedgehog 2, Sonic Labyrinth, Crystal Warriors), one of the first NES games ever (Spelunker), an "action-biker" game (Urban Trial Freestyle), a bite-sized version of rhythm game Gabrielle's Ghostly Groove (Gabrielle's Ghostly Groove Mini), and a futuristic racer from Majesco (Crash City Mayhem, which will be availably July 2).
Finally, the Super NES game Vegas Stakes, which was originally released in 1993, has been added to the Wii U eShop. OK, but it seems like an odd choice for one of the first SNES games to be added to the Wii U Virtual Console.