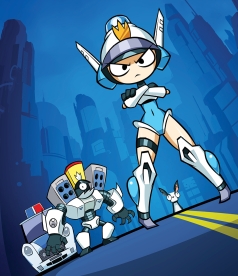 There is lots of new additions to Nintendo's download services today, such as…
Mighty Switch Force! 2 sees the return of Patricia Wagon and her crimebusting ways in the 3DS eShop puzzle platformer.
Mutant Mudds Deluxe is an enhanced version of the "12-bit" platformer, now available for the Wii U eShop.
Picross E for the 3DS eShop is an easier version of the popular puzzle series.
It's joined by Big Bass Arcade: No Limit, a fishing game.
Finally, the 3DS eShop has received a quartet of Sega Game Gear titles including Sonic the Hedgehog, Columns, Dr. Robotnik's Mean Bean Machine, and Shining Force: Sword of Hajya.

More information on all of these games can be found after the break.

Wii U eShop

Mutant Mudds Deluxe – Mutant Mudds Deluxe features 80 hard-as-steel levels, spanning across five unique "12-bit" worlds, including 20 new ghost levels exclusive to the Wii U console. New spectral enemies, haunting hazards and a ghastly new ghost-shot power-up await you.

3DS U eShop

Mighty Switch Force! 2 – Patricia Wagon returns to heat things up with a refreshing spray of blaze-battling action puzzles. This time, Officer Wagon and Corporal Gendarmor join Planet Land's Fire Brigade to prevent Tangent City from burning to the ground. New puzzle types, weapons, enemies, unlocks and a truly epic soundtrack bring the sizzle.

Picross E – This is the series of "picture crossword puzzles" in which you use numbers as hints to complete illustrations that Nintendo has been developing as its own brand of game software since 1995.

Big Bass Arcade: No Limit – Big Bass Arcade: No Limit is loaded with fishing excitement, putting players directly into the action as they reel in a big one. The Big Bass Arcade series appeals to fishing enthusiasts and gamers alike by capturing the adrenaline rush of fish fighting in an arcade-style game.

Sonic the Hedgehog – Originally released for the Game Gear, Sonic the Hedgehog lets you play as Sonic as he speeds through Zones and frees animals from their mechanical prisons with his devastating spin attacks. Blaze through five super challenging Zones and defeat all of Dr. Eggman's machines in order to put an end to his evil schemes.

Columns – Drift back in time to ancient Phoenicia and challenge yourself with Columns, an addictive game played by Middle Eastern Merchants centuries ago. In this mesmerizing pastime, tinker with your riches to align glittering jewels across, down, or diagonally.

Dr. Robotnik's Mean Bean Machine – The evil Dr. Eggman (AKA Dr. Robotnik) has built a machine that will turn the poor people of Beanville into machines, but there's safety in numbers! In this colorful puzzle game, help them out by joining them into groups of four matching colors so they can stick together and escape certain doom! You can even challenge a friend via local two-player multiplayer.

Shining Force: Sword of Hajya – The peaceful Kingdom of Cypress has been disrupted by the corrupt ambition of the evil King Iom. Terror rampages across the land as the Castle of Cypress is invaded and the magical Sword of Hajya is taken! It will take strength, courage, agility, and your keen sense of strategy to defy this ominous power and bring peace back to the land.