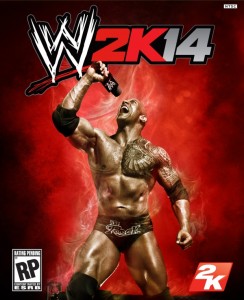 The Rock appeared on last night's edition of Monday Night Raw to unveil the official box art for WWE 2K14. Naturally, "The People's Champion" wants the first WWE game under the 2K Sports label to "electrify" the gaming world. And I'm sure an arched eyebrow followed the completion of this quote:
"I am exceptionally grateful to be chosen for the cover of WWE 2K14 and serve as the first cover Superstar under 2K's leadership," said The Rock. "I want the cover of WWE 2K14 to electrify the people. I want the artwork to stand out and set a new standard for all WWE video games from 2K, both today and in the future."
In addition to the cover reveal, 2K is hosting an alternate cover contest for fans. The winning entry will appear as the reverse image on the WWE 2K14 cover and can be used in place of The Rock's massive physique. Fans can create and submit their cover design at wwe.2K.com/covercontest.
Finally, a brand new trailer for WWE 2K14 is available after the break. Try not to shed a tear at the trailer's focus on one of the WWE's all-time greats: "Macho Man" Randy Savage.
WWE 2K14 will be released for the PS3 and Xbox 360 on October 29.