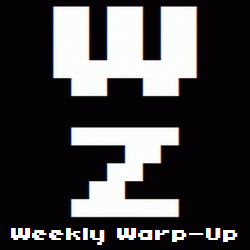 No, that's not a typo. Welcome to the Weekly Warp-Up, your weekly wrap-up of the biggest and the best articles posted at Warp Zoned this week…
We're just a little over 24 hours away from the official opening of the 2013 E3 Expo. This week saw the last bits of preparation for gaming's biggest showcase fall into place including E3 lineup announcements from Activision, Square Enix, and Capcom (who has a "big surprise" in store for us). Let's see, what else…
Konami confirmed that Kiefer Sutherland will voice Snake in Metal Gear Solid V: The Phantom Pain… Namco Bandai erected a massive banner in Los Angeles touting the release date of Dark Souls II… Bethesda released an E3 trailer for Wolfenstein: The New Order and Twisted Pixel announced that LocoCycle is coming to E3 2013 and the Xbox One.
Finally, Microsoft has begun talking about the Xbox One's used game policies and online connectivity requirements. They're not bad as we thought, but they're good either.
In non-E3 news, we interviewed the chaps from Zeboyd Games about Penny Arcade's On the Rain-Slick Precipice of Darkness 4 this week and UK Correspeondent Andrew Rainnie filed another edition of Kickstart This!
Be sure to check out more news after the break.
The Week in Reviews…
The Week in New Games…
Amazing Paperboy Delivers…
It's A Secret To Everybody…
And Finally…
The Warp Zoned staff dug through this month's release calendar and came up with our choices for The Games of June 2013. Take a look and see if anything interests you this month.