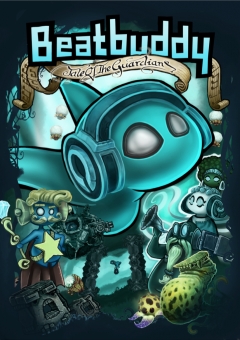 A few days after the release of last week's very amusing new edition of Threaks News, the developers of Beatbuddy have announced that the game has a new name (Beatbuddy: Tale of the Guardians) and an official release date (August 6). The PC, Linux, and Mac title will be available to download exclusively from Steam for $14.99.
Beatbuddy was included in our Best of PAX East 2013 roundup and we're thrilled the game will be available to everyone soon. Are you unsure what Beatbuddy's all about? It's all about the beat…
Beatbuddy: Tale of the Guardians tells a story of an ethereal, blue creature who is awoken from his eternal slumber in order to save the world of Symphonia from losing music forever to Prince Maestro. Beatbuddy's quest takes him to a series of worlds where he encounters vibrant characters, such as Harmony, Clef, Trebble, and Quaver, who aid him as he opens paths and solve puzzles on his journey. Threaks has created a rich, interactive experience utilizing its patent-pending sound technology that syncs in-game animations with the beat, enabling players to experience music that is woven into the fabric of this action-adventure.