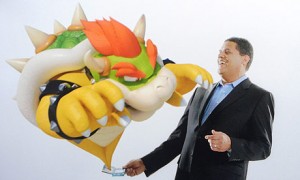 Here's something fun for your Sunday afternoon. A group of petitioners on Change.org want Nintendo to add Reggie Fils-Aime to Super Smash Bros. 4 as a playable character. Fils-Aime is Nintendo of America's hulking President and is affectionately referred to as "The Regginator" by fans.
The petition was created for the game's director, Masahiro Sakurai, who has stated that several new characters will find their way into the upcoming Wii U and 3DS game. So far, Sakurai has confirmed that a villager from Animal Crossing, a Wii Fit trainer, and Mega Man will be added to the fighting franchise's roster. I've got to admit, including Reggie in a Smash Bros. game sounds pretty perfect. After all, the man introduced himself to the gaming press at E3 2004 with one of the greatest lines ever: "My name is Reggie. I'm about kickin' ass, I'm about takin' names, and we're about makin' games."
The petition is currently sitting at 4,232 supporters. It may not be enough to convince Nintendo to include Fils-Aime as a playable character in a Smash Bros. game, but maybe he can be included in some other way.