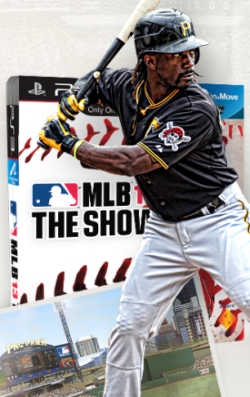 The 2013 All-Star Game will take place in two weeks, at beautiful Citi Field, and Sony wants to celebrate with a new PlayStation Store release: MLB 13: The Show – Home Run Derby. Sony has taken the popular mode out of the retail version and released it as a standalone PSN title with over 30 of the top hitters in baseball.
Also available this week for the PS3 is the Koei-published massive battler Bladestorm: The Hundred Years' War and the bicycle simulation Tour De France 2013. Koei is also dropping a new game on the PS2 Classics section: Warriors Orochi. Over on the Vita side of things, three titles will vie for your download dollar: Farming Simulator, a farming simulator; Pinball Heroes Complete, a remake of the popular PSP pinball game; and Velocity Ultra, a puzzle shooter.
But the biggest addition to the PlayStation Store this week isn't a full game, it's a demo. In the Gran Turismo 6 "GT Academy 2013" demo players will be guided by GT Academy driver Lucas Ordonez around the famed Silverstone circuit well ahead of GT6's holiday 2013 release date.
You can find more information on all of these games after the break and a full list of this week's new game add-ons can be found at the PlayStation Blog.
PS3 Full Games
Bladestorm: The Hundred Years' War ($19.99)
The mammoth conflict between the English and the French is one of history's greatest wars. The Hundred Years' War exhausted the standing armies of both sides and dependency on mercenary soldiers grew. As a fearless mercenary, you get the chance to fight for either side and display your tactical cunning as you command your troops in the heat of battle.
Tour De France 2013: 100th Edition ($49.99)
Tour De France 2013: 100th Edition enables you to step into the shoes of a racing cyclist, embarked on a highly-accurate reproduction of the most prestigious cycling competition. Live up to the hype of a spectacular 100th edition of the Tour de France in a much richer and visually complete game, with more dynamic pace and fully-revised gameplay that gives you complete control.
PSN Games
MLB 13: The Show – Home Run Derby ($5.99)
Test your slugging skills in MLB 13: The Show – Home Run Derby. Featuring the same amazing visuals and gameplay from the top-rated MLB: The Show franchise, MLB 13: The Show – Home Run Derby lets you swing for the fences against over 30 of the top hitters in baseball at Citi Field in New York.
PS2 Classics
Warriors Orochi ($9.99)
Serpent King Orochi has created a twisted world, bringing together the greatest warriors from China and Japan. Can they combine forces to stop him?
PS Vita Games
Farming Simulator ($9.99)
Huge vehicle fleet with authentic machines by renowned manufacturers like Deutz-Fahr, Krone, Ktampe, Amazone, Lemken and Kotte. Computer-steered assistants help you with your work. Career Mode with management part. Freely accessible world with dynamic day-night-cycle.
Pinball Heroes: Complete ($5.99)
Pinball Heroes: Complete is now available for the PlayStation Vita system! The classic PSP game has been remade with the PS Vita system's features in mind and includes all 8 action-packed tables from the original version, as well as a slew of new online and social features so you can show the world your pinball prowess by competing with friends.
Velocity Ultra ($7.49)
Take control of the world's first quantum teleport spacecraft in this groundbreaking shooter, using a range of teleport controls to outsmart enemies, solve action based puzzles and rescue helpless survivors from their deep space hideaways!