Summer is in full swing, like a party at Jay Gatsby's house. While we are currently in the middle of a month of suffering thanks to a gaming drought, there's always new opportunities on Kickstarter. This month, choose whether to join Team Meat or Team Cheese in Organic Panic, explore the chilling dystopia of Monochroma, or get your steampunk on in turn-based strategy Tooth and Cog.
Taking a slight detour from video games themselves, there is also the augmented reality board game Darkling Plain, a new open-source programmable handheld console in the FEZ Game-O, and finally, Double Jump, a novel about a man who finds himself in a world governed by video game logic.
Let's jump right in!
Organic Panic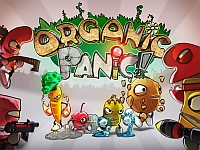 Brooklyn-based Last Limb Games has pitched their latest title as a cross between Worms and LittleBigPlanet.
Take my money. Now!
Brothers Damon and Anatole Branch have been hammering away at their physics-based puzzler, hoping to make it the defining game of its genre. The game pits a group of Fruit and Veg against different varieties of Cheeses; the rivalry is not explained, although presumably it will be in the game and accompanying comic. The characters look like meaner, hand-drawn versions of Angry Birds, which is no bad thing. Rather than the turn based strategy of Worms, Organic Panic looks to live up to its name, with frantic and fun gameplay as you try to annihilate the opposite team by utilising the environment around you. This is where the nifty physics engine comes into play. Gamers can cut and slice into the landscape, allowing part of a cliff to fall, or for lava to flow out of a volcano and melt your enemies.
The Brothers Branch are seeking $40,000 to help finish their game and get it ported to more platforms such as Wii U, Ouya and PSN, rather than just the originally intended Xbox 360 and PC. The latter version will also have a level editor, which Last Limb hopes will help develop a thriving community around the title. Although the game is up and running, they want to do a lot of polishing to the final product, finish a comic book, as well as adding more bosses and music tracks.
For the small sum of $2, you will receive a small downloadable art pack, while for $10, you get a digital copy of the game to boot. If you stretch to $12 you will also get the In-Game Level Editor (this is limited to 1000). At the opposite end of the vegetable rack, a pledge of $1,000 will see the designers help create a new character based on your input, which will not only feature in the game but also on your wall as a full color canvas. This also comes with a hardback copy of the comic, playing cards, T-shirts and a host of other goodies. If you up this to $5,000, you receive everything, as well as a solid silver Organic Panic button.
Monochroma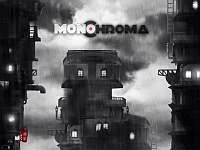 This 2D side-scrolling puzzle platformer comes courtesy of Nowhere Studios, based all the way out in Istanbul, Turkey. While it shares a similar look to indie hit Limbo, Monochroma distances itself from that game in tone, story and style. The designers have added hints of deep red into the landscape and environment, including the character, who wears a fetching red scarf. The story sees an older brother carrying his younger sibling across an alternative 1950s dystopian world, which has been run into ruin by corporations. The player must sometimes leave his younger brother in order to solve puzzles, but as he is a child, he must be left somewhere with a light on, as he is afraid of the dark.
Orcyn Nisli, Monochroma's Creative Director, has taken the bold step of not having any spoken words or cinematics within the game, allowing the beautifully rendered worlds and puzzles to speak for themselves> Nowhere Studios is asking for $80,000 in order to get the last two levels completed for their deadline six months from now.
A small donation of $5 will have you gifted with a digital wallpaper set, while $15 will see you walk away with a digital copy of the game on your choice of Window, Mac or Linux. On the other end of the grey scale, a pledge of $1,000 or more will see you invited as a VIP to the launch party in Istanbul (you have to get your own travel out there though). You will also receive a number of goodies including some fashionable red threads (as worn by the characters), a soundtrack, an artbook, and your picture displayed within the game itself. For the more generous donation of $5,000 or over, you will receive all this plus Monochroma original collectors artwork (limited to 10).
Tooth and Cog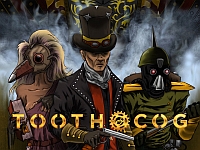 This online multiplayer steampunk-inspired game seeks to find a balance between turn-based play and real-time strategy. You take control of a group of survivors who have witnessed their city's sudden and devastating destruction. From the outskirts of the Old City you must band your team together to rebuild society while tackling the dangers left behind, all the while wondering what exactly happened here.
Riveting Games has taken the likes of Civilisation and given it a stylistic gloss, filling their post-apocalyptic world with militarized penny-farthing gangs, hot air balloon squads and steam-powered golems. Its goal is to make a large Tooth and Cog community that will allow maximum fun for players the world over. As well as the money needed to finish the project, the company is also looking forward to marketing and distribution.
In what is a growing trend (possibly thanks to Warp Zoned's Kickstart This! Guide), there is an early bird special to get the game for only $10, limited to 200 places. If you miss out, the game can be yours for a donation of $15. Likewise the upper levels of the pledges are limited to one lucky individual. There are two different $2,000 donation packs; the first allows you to design a unit in the game, while the second makes it possible for you to design an engine instead. Both come with a plethora of goodies including signed posters, T-shirts, and beta access to the game. The top spot of $10,000 or more, also limited to one person, includes a custom-built penny farthing, which you will receive when you join Riveting Games at PAX East 2014 in Boston.
Darkling Plain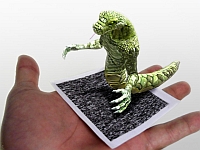 Perhaps it is not so amazing nowadays, but for anyone over the age of 30, seeing Chewbacca and R2-D2 playing the hologram board game Dejarik in Star Wars for the first time was amazing. It captured what the future of toys should be. And now we are here.
Kinda.
In a nutshell, augmented reality readers are becoming more popular on mobile devices such as phones and tablets. The cameras on these devices are now so complex they can read AR code on card, and so when you look at a code through the screen of the device, you might see a mighty dragon, or a wicked elf, or a fearless tiger warrior, all fully animated. Stewart Wieck, co-founder of Nocturnal Media, believes this technology will add a new level of excitement to board games. It is not hard to see why. Viewing the flat board map of Darkling Plain through an AR Reader shows 3D topography, while placing cards on the map will show your characters fight. The characters on the card can also be fully customised.
However, the technology is only half the battle, in that it only allows the story to be told more visually, but that tale has to be worth telling. Thankfully, Wieck comes from a publishing background, having previously set up White Wolf Publishing, who developed books and board games set within the World of Darkness. The various plots and storylines have been extensively workshopped, including the central belief system of the world, that tells of twin brothers who grew up to become bitter warring Gods.
Of course new technology requires investment, and so Wieck is seeking $120,000 in order to take the prototype his team at Noctural has and flesh it out to something that can be enjoyed en masse. For $5, you will receive an AR Reader app and cards to print out so you can test the technology yourself. The more money you pledge, the more cards you receive, up to $55, where you will receive the complete game app and game board. If you have recently discovered some real treasure and have $10,000 or so to give away, you can work directly with Stewart Wieck at the Nocturnal offices in Houston, Texas to create a character in your own image (travel and accommodations are sadly not paid for).
FEZ Game-O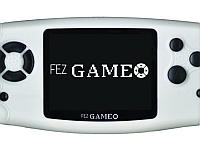 When the Ouya debuted on Kickstarter this time last year, the company was looking for $950,000. When GameStick launched its campaign earlier this year, it was seeking $100,000. Both managed to score several times their target goal, and now Gus Issa, founder and CEO of GHI Electronics, is hoping for similar success with the FEZ Game-O. The idea behind it is to provide programmers of all levels with a platform they can use to create and play games on. The "O" in FEZ Game-O stands for "open-source," and can be programmed in C# and Visual Basic (.NET) via Microsoft's Visual Studio.
The console is up and running, but GHI Electronics needs an additional $5,000 in order to source additional parts and manufacture the FEZ Game-O. So how much is it going to skin you? Well, it depends on what skin you want (see what I did there). For the basic white model (limited to 500), a donation of $80 will see it delivered to your door by Halloween. For the more cosmetic pink edition (limited to 50) it will be a little bit more at $90, while the ultra-cool black Game Gear-esque model (also limited to 50) can be yours for a pledge of $100. On top of that, for a donation of $1,000, you can visit GHI Electronics in Troy, Michigan to receive 1-on-1 training programming .NET Micro Framework, where you can learn to make your own game. The price also includes one night's stay at a four star hotel and dinner with CEO Gus Issa.
Double Jump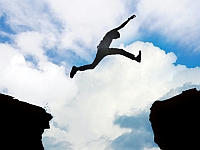 Jason Glaser, father and author of over 70 books, is seeking $16,384 for his latest gaming-themed novel, Double Jump. Why that amount exactly? Because 16,384 is the exact number of bytes in 16K of memory. But it is a book, so what does he need the money for? Well, Glaser is working with hybrid publisher Beaver's Pond Press, so he has to cover many of the costs himself, including editing, proofing, cover design and eBook conversion. However, he is a man who will stand by his words, and he offers the first chapter online to read.
For $4, you can submit a photo of yourself that will then be used as part of a mosaic promotional poster. However, if you want to actually have a digital copy of the poster, that will cost you a donation of $8. If you want to read the finished book in digital form you will need to pledge over $16, while $25 will also see you gifted with a physical paperback copy as well. If you want that book signed, you will have to double up to $32. At the tail end of this pledger's tale, a donation of $1,000 (limited to 10) will not only snag you a signed and numbered copy of the book, but Glaser himself visit the school or library of your choice (within the United States) to do a reading, workshop, whatever you wish (within reason). If you live in Hawaii, Alaska or Canada and wish Mr. Glaser to visit your school or library, add another $500 to that. The $1,500 and over reward is limited to only two lucky readers.
And there we have it gamers, readers and geeks, another edition of Kickstart This! Rather than finish with some petty diatribe of my own, I thought I would leave you with a poem by American author Ella Wheeler Wilcox, which speaks about the poverty of the human soul. As always, give generously.
---
The Squanderer by Ella Wheeler Wilcox
God gave him passions, splendid as the sun,
Meant for the lordliest purposes; a part
Of nature's full and fertile mother heart,
From which new systems and new stars are spun.
And now, behold, behold, what he has done!
In Folly's court and carnal Pleasures' mart
He flung the wealth life gave him at the start.
(This, of all mortal sins, the deadliest one.)
At dawn he stood, potential, opulent,
With virile manhood, and emotions keen,
And wonderful with God's creative fire.
At noon he stands, with Love's large fortune spent
In petty traffic, unproductive, mean –
A pauper, cursed with impotent desire.