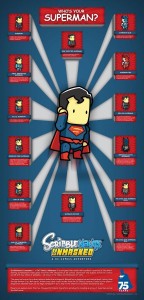 Warner Bros. Interactive Entertainment and 5th Cell have announced that Scribblenauts Unmasked, their Scribblenauts/DC Comics crossover, will be released for the 3DS, PC, and Wii U on September 24.
To celebrate, the two companies have released this cool poster showcasing the 14 variations of Superman available in the game. "Classic Superman" is well-represented, with a different flavors to choose from. But Unmasked will also include Supermen from the Red Son and Batman Beyond universes as well as Superman dressed up like Batman (AKA Speeding Bullets Superman).
All told, the game will features thousands of DC Comics characters, including a version of Doomsday dressed up like Superman!