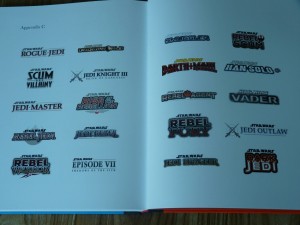 The book Rogue Leaders: The Story of LucasArts was first published in 2008, but I guess no one bothered to look at the appendices until All Games Beta did today. There, in Appendix C, they found concept logos from 20 canceled Star Wars games. Wow!
It's likely that most of the logos were designed for games that only existed as part of a collection of pre-production documents, but some of them have interesting stories behind them…
Star Wars: Vader was an early version of Star Wars: The Force Unleashed (players could still play as Darth Vader during the game's tutorial level). "The Force Unleashed" was originally a working title and it's likely many of the logos pictured (Jedi Hunter, Dark Jedi, Rebel Fury, Jedi Rebel, Rebel Jedi, etc.) were alternate titles for the story of Vader's Dark Apprentice.
Star Wars Jedi Knight III: Brink of Darkness (or the similarly logoed Star Wars: Jedi Outlaw) would have been been the fifth game in the extremely popular Dark Forces series.
Star Wars: Underworld shares a name with the long-in-development Star Wars live action television show. It was eventually announced as Star Wars 1313, which was canceled after LucasArts was purchased by Disney.
Personally, I'd love to know what kind of game Star Wars: Scum and Villainy was being developed as. You can find the complete list of canceled titles after the break.
Star Wars: Rogue Jedi
Star Wars: Underworld
Star Wars: Scum and Villainy
Star Wars Jedi Knight III: Brink of Darkness
Star Wars: Jedi Master
Star Wars: Rise of the Rebellion
Star Wars: Rebel Jedi
Star Wars: Jedi Rebel
Star Wars: Rebel Warrior
Star Wars Episode VII: Shadows of the Sith
Star Wars: Smuggler
Star Wars: Rebel Scum
Star Wars: Darth Maul
Star Wars: Han Solo
Star Wars: Rebel Agent
Star Wars: Vader
Star Wars: Rebel Fury
Star Wars: Jedi Outlaw
Star Wars: Jedi Hunter
Star Wars: Dark Jedi