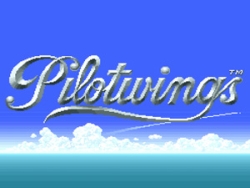 Nintendo rests for no holiday. As you celebrate the 4th of July today, Nintendo has updated the Wii U eShop with Pilotwings, so players can soar like an eagle in the Super NES classic on our nation's birthday. Three more classic titles, the Game Gear's Sonic Drift 2 and the Master System's Vampire: Master of Darkness and G-LOC Air Battle, are now available on the 3DS eShop.
Also available this week…
Deer Hunting King (3DS), a deer hunting sim.
Fishdom H2O: Hidden Odyssey (3DS), a "find the hidden object" adventure game.
Finally, there's a big sale this week on Mighty Switch Force! ($2.99 until July 11) and Mighty Switch Force! Hyper Drive Edition ($6.67 until July 11). More information on all of this week's new releases can be found after the break.
Wii U eShop
Pilotwings – Join the Flight Club to take to the skies and experience a variety of aerial activities. Take off and pilot a biplane through rings along a predetermined flight path, or drift serenely in a hang glider, catching thermal currents to gain altitude. In either case, just be sure to stick the landing. Strap on the rocket belt to blast your way around an obstacle course. If that's not enough, reach maximum velocity as you tackle a skydiving lesson at 3,800 feet. Complete specific objectives within a set time limit to score points and obtain certification in eight different lessons. Your goals will become more challenging, and weather conditions will make controlling your vehicle more difficult as you progress. If you succeed, you will be rewarded with the opportunity to pilot an attack helicopter on a daring rescue mission.
3DS U eShop
Sonic Drift 2 – Start your engines and prepare for the race of your life! Choose from seven of your favorite Sonic characters including Sonic, Knuckles, and Dr. Eggman (AKA Dr. Robotnik) and race your way across 17 courses in the ultimate Chaos Grand Prix. You can also challenge a friend via local two-player multiplayer. Use each racer's special ability to gain an edge over the competition and win the fabled Chaos Emeralds!
Vampire: Master of Darkness – The shadow of Dracula has spread across Victorian England, cursing the land and its people. In your quest to stop this evil from spreading, make your way through strange and forbidding streets and collect different weapons to aid you against his army of monsters. Find Dracula, the Master of Darkness, and rescue England from his terrifying grasp!
G-LOC Air Battle – Strap yourself in and take to the skies in G-LOC Air Battle. Dive, climb and bank as you outmaneuver enemy pilots and blow them out of the sky with your impressive arsenal. There are nine different air, land and sea missions. You can even challenge a friend via local two-player multiplayer! Gain experience with every mission and equip yourself with more powerful weapons and armor in order to destroy the Future World Army and bring peace back to the skies.
Deer Hunting King – In Deer Hunting King, you can hunt for wild animals that throb with vitality and life amid the vast backdrop of the natural world. Use a crossbow, a rifle, or a shotgun as you hunt for deer, raptors, bears, and more. Choose to sight with either the Circle Pad or by moving your Nintendo 3DS itself to use the built-in gyro sensor to sight your prey.
Fishdom H2O: Hidden Odyssey – Help Jennifer, a young marine biologist, win the Best Aquarium Award. Dive to the bottom of the sea and find various hidden items in numerous eye-teasing locations. Get cash for them to buy cute sea creatures and beautiful ornaments to create three unique aquariums. Choose from tons of accessories and supplies to make the life of your exotic swimming pets fun and comfortable. Become a genuine aquarist, polish your design skills and win trophies in this dazzling hidden object spin-off of the original Fishdom.