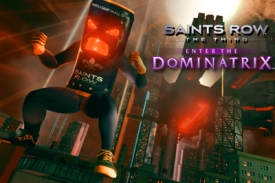 After escaping THQ's collapse relatively unscathed, Volition is proud to announce that development work on Saints Row IV is done. In industry terms, the game has "gone gold" (insert your own scatological joke here).
To celebrate, Volition has announced that gamers are now able to pre-order the (rather affordable) Season Pass that will be released with it. The Saints Row IV Season Pass will be sold for $9.99 and will entitle the owner to two downloadable expansions and an exclusive weapon, The Rectifier anal probe (again, insert your own scatological joke here).
The first expansion is scheduled to be the previously announced Director's Cut of the "Enter the Dominatrix" scenario. It should be available sometime in the Fall and a second expansion will follow in "late 2013." Saints Row IV will be released on August 20.