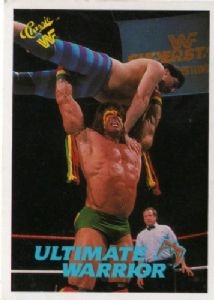 Children of the 80s had their own "The Beatles or The Rolling Stones?" conundrum when it came to pledging allegiance to their favorite WWF superstar. While "The Macho Man" Randy Savage had his supporters, the question nearly always came down to Hulk Hogan versus The Ultimate Warrior.
Since his late 80s heyday (and victory over Hogan in Wrestlemania VI), the Ultimate Warrior has had a frosty relationship with the WWE. Aside from an appearance in last year's WWE All-Stars, he's never had much of a presence in WWE video games either. That all changes this October when the wrestler will be added to the WWE 2K14 roster exclusively as a pre-order bonus.
"Immortality is inspiration, pure and simple. An example to others that they, too, can do things larger than the life they are actually living, and Ultimate Warrior was the pure embodiment of this belief, in what has proven to be a very attention-getting and inspiring way," said Warrior. "It was my good fortune to be his creator and performer, and I am humbled by all those fans who've not only kept his legacy alive, but deepened it over time. In WWE 2K14, Ultimate Warrior's creed, 'Always Believe,' lives on."
Well said, Warrior, well said. The 2K Sports-published WWE 2K14 will be released for the PS3 and Xbox 360 on October 29.