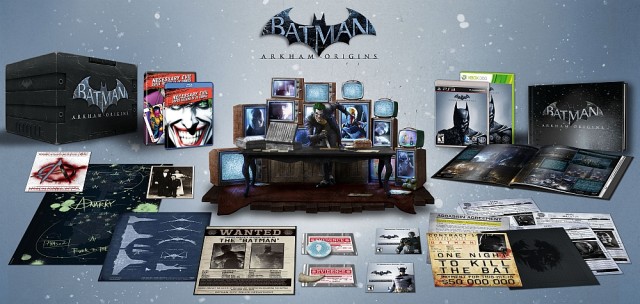 The Joker gets the last laugh in the Batman: Arkham Origins Collector's Edition. The centerpiece of the package is a massive (nine inches high, almost 12 inches deep, and 13 inches wide) statue depicting The Clown Prince of Crime in his lair as he keeps track of the game's many assassins, the Batman, and his favorite cartoons on an array of TVs.
The Collector's Edition will also include the following bonus items:
Assassin's Intel Dossier: Including files on the 8 assassins, as well as Black Mask's contract
1st Appearance Batman Skin: Look just like Batman did during his first appearance in Detective Comics #27, released in 1939.
Deathstroke Challenge Pack: Unlock the ability to play as one of the world's deadliest assassins! Usable throughout all the Arkham Origins Challenge maps. Also includes two bonus challenge maps and two bonus Deathstroke Skins.
Necessary Evil: Super-Villains of DC Comics: This new feature-length documentary from Warner Bros Home Entertainment focuses on DC Comics' most terrifying villains. Legendary actor Christopher Lee narrates the film.
80-page, full-color hardcover art book
Two key pieces of evidence taken directly from the Gotham City Police Department Crime Lab
Batman Wanted Poster
Batwing Prototype Schematic
Anarky logo stencil
Glow-In-The-Dark map of Gotham City
Wayne Family Photo
Knightfall Pack (PS3 Exclusive)
The Batman: Arkham Origins Collector's Edition has been priced at $119.99 and will be available for the PS3 and Xbox 360 (apologies to PC and Wii U players) on October 25.