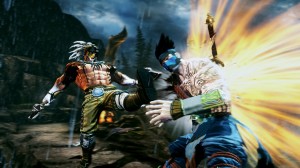 Along with revealing Chief Thunder as the latest character in their long-awaited Killer Instinct reboot, Microsoft and Double Helix today announced a few different purchasing options for the game. They are as follows:
Free To Play (Free) – Includes the game plus one playable character. Additional characters (including Thunder, Jago, Sabrewulf, and Glacius) will be available to download for $4.99 / £3.99 / €4.99 each.
Combo Breaker Pack ($19.99 / £16.99 / €19.99) – Includes the first eight characters, six at launch and two as DLC.
Ultra Edition ($39.99 / £34.99 / €39.99) – Includes all of the above, plus character accessory packs, costumes, and (best of all) the original Killer Instinct arcade game!
Killer Instinct will be available when the Xbox One launches in November.