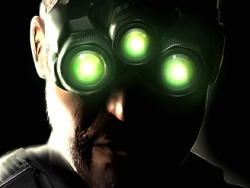 Once again, the Virtual Console is home to the highlights of this week's Nintendo Download. The NES adaptation of Mario's first adventure, Donkey Kong, has been added to the 3DS eShop. Meanwhile, the NES adaptation of Galaga is now available on the Wii U eShop.
Also available today is a quartet of 3DS title… budget compilation 10-in-1: Arcade Collection, squeaky clean Barbie: Glam and Groom Pups, miniature shooter Heavy Fire: Black Arms 3D, and equestrian sim My Western Horse 3D.
On Tuesday, Wii U owners will be able to download Sam Fisher's latest adventure, Tom Clancy's Splinter Cell: Blacklist, which is definitely the biggest new release of the week.
More details about all of these games can be found after the break.
Wii U eShop
Galaga – In this arcade classic, move right and left to defend against the missiles and attacks of the Galaga aliens. Aliens attack in formations using a variety of attack patterns. Rescue a captured fighter to combine with it, forming a Dual Fighter with twice the firepower. Earn perfect bonuses more easily by using a Dual Fighter on the Challenging Stages.
Tom Clancy's Splinter Cell: Blacklist – The United States is being threatened with a terror ultimatum known as the Blacklist, a series of deadly escalating attacks. Sam Fisher is the only agent with the authority to hunt down these terrorists by any means necessary. The countdown has begun. (Available on August 20)
3DS U eShop
Donkey Kong – Donkey Kong has kidnapped Pauline, and it is up to Mario, the fearless carpenter, to come to her rescue. Throwing fate to the wind, Mario tries desperately to climb the labyrinth of structural beams from the top of which Donkey Kong taunts him.
10-in-1: Arcade Collection – Ten minigames filled with retro arts, music, sound effects and fun. One hundred levels filled with a host of enemies to destroy. Dozens of collectable items and power-ups are waiting to help you achieve victory.
Barbie: Glam and Groom Pups- Barbie Groom and Glam Pups is a virtual pet game in which players groom, train, dress and show puppies in a high fashion game environment under the watchful eye of their in-game mentor, Barbie. The game features six available breeds of dog in puppy form selected for use in the game based on popularity and dramatic styling potential. Additional features include: realistic grooming activities, the ability train your pups to do outrageous tricks that they can perform on the catwalk, customizable puppy costumes and in-game photo shoot functionality for puppies.
Heavy Fire: Black Arms 3D – Deep within the overgrown jungles of South America, a group of highly trained US marines head out for their latest secret mission; to take down the largest international arms trafficking cartel known as Fuerza de Voluntad. Your soldier, Will is one of the experienced marines ready to charge through the treacherous jungle environment in this long standing heated war. Immerse yourself in this awesome military 3D shooter as you shoot down enemy aircrafts, smashing through and interacting with the hostile environment. Ride aboard helicopters and tanks aiming to vanquish the entire cartel with the use of upgradable weapons for a total military show down!
My Western Horse 3D – Jump into the saddle, get your chaps on and experience the thrills of a western riding adventure! Karla is dreaming of being a big star in western riding – but before she can start a career she needs to convince her aunt Polly of her sense of responsibility and talent. She can achieve her goal by hard training in the riding hall and the loving care of her horse.