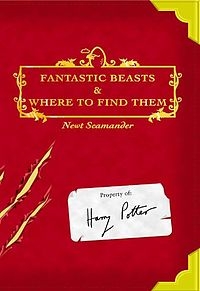 Did you honestly think the Harry Potter film adaptations had come to an end?
This morning, Warner Bros. announced that Fantastic Beasts and Where to Find Them, a tie-in "textbook" written by J.K. Rowling and published alongside the Harry Potter novels, will be turned into a movie. In a first, the script for Fantastic Beasts: The Film will be written by Rowling herself.
"Although it will be set in the worldwide community of witches and wizards where I was so happy for seventeen years, Fantastic Beasts and Where to Find Them is neither a prequel nor a sequel to the Harry Potter series, but an extension of the wizarding world," said Rowling. "The laws and customs of the hidden magical society will be familiar to anyone who has read the Harry Potter books or seen the films, but Newt's story will start in New York, seventy years before Harry's gets underway."
The film will follow Newt Scamander, the author of the titular textbook, as he travels the world searching for "Fantastic Beasts."
Naturally, Warner Bros. has also announced that a Fantastic Beasts and Where to Find Them video game is in development at WB Games. Unfortunately, no release date for the film or video game was announced.