Lightning Returns: Final Fantasy XIII was quietly available to play on the show floor at PAX Prime 2013. There wasn't a crowd around it – I didn't even have to make an appointment or wait in a line to try it. The people who were playing it were completely engrossed, but it was a – not surprisingly – small number. With the linearity of the first Final Fantasy XIII, many fans were put off of the "Fabula Nova Crystallis" series (comprised of Final Fantasy XIII, Final Fantasy Type-0, Final Fantasy XIII-2, Lightning Returns: Final Fantasy XIII, Final Fantasy XV, and Final Fantasy Agito). XIII-2 brought in a time travel element that changed a few things about how the first game worked, but not enough to reclaim fans. Lightning Returns, while it still continues to feel like a game in the XIII world, has taken some steps to make it stand out – and also has Lightning in it, which is a major added bonus.
Platforms: PS3, Xbox 360 (Version Played)
Publisher: Square Enix
Developer: Square Enix
Genre: Yet Another RPG Starring Lightning
Release Date: February 11, 2014
ESRB Rating: Rating Pending
I have a confession to make – I was one of those people who loved Final Fantasy XIII. I know, I know, you are probably going to stop reading this. I enjoyed the story, I loved the way the battles played out (Paradigms blew my mind), and once I hit Gran Pulse, I couldn't put the game down. The same can't be said for Final Fantasy XIII-2, which I was horribly disappointed in. There were no real solid changes, and the only ones made were bad ones. But I'm hoping all of that will be different with Lightning Returns.
The first great thing I noticed about Lightning Returns – and my favorite thing about the game so far in general – is that it has Lightning in it again as the main character (obviously, with a title like that, one would hope she would be in it). She is one of the best Final Fantasy leads, and the lack of her was part of what brought XIII-2 down. Picking up a controller and playing as her once more was a relief, and made the demo sentimental for me.
I only got a chance to play a small part of the demo, which was just straight combat. The most important thing to come out of this demo was the new Paradigm system, in which you can switch between classes with a simple tap of a button instead of going through a menu. Need some quick spells? Or would you rather do some physical damage? Built up a lot of wounds, and want to heal? You can switch so quickly between them that combat is faster than it ever has been in the series. There are also multiple dodge options, some more powerful than others, giving you the ability to determine how much – and what kind of – damage you want to block. The action meter still works the same, filling up and allowing you to assign actions according to how much you have available.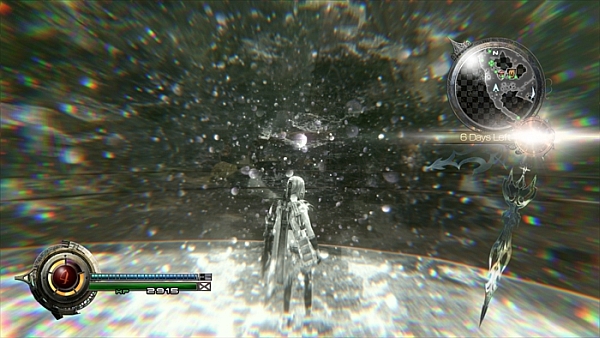 I guess the main thing about the combat is that, with the faster pace of your options, the fights themselves are much quicker. For those who yearn to spend less time poring through menus – and learning how to pore through them with agility – this is a relief. And it also ups the action in the game, giving everything a much more intense feeling, which goes with the theme of the clock ticking down until the end of the world.
While I didn't get as much time as I wanted with the game – and I was going to pick it up even before playing this demo anyway – I can say that everything about it feels smoother than ever. There's no telling if Lightning Returns will have the same linearity as the first, or if it will have the same problems with time traveling as the second, but at least the core concepts about it are fun so far. No matter what, February can't come fast enough for me.