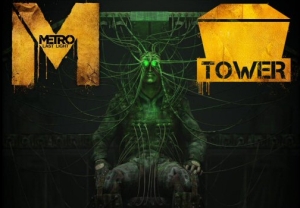 Deep Silver's Metro: Last Light has enjoyed a great deal of commercial and critical success. How great? The game sold more copies in its first week than its predecessor, Metro 2033, has in three years of being on shelves. The first DLC pack, the Faction Pack, also received a great deal of critical acclaim for it's exploration of characters beyond the main storyline as well as new weapons and free roaming aspects. Deep Silver hopes to keep the momentum of their game's success, with three more DLC packs planned for Last Light in the future.
For those of you who have been waiting patiently for the next adventure in post-apocalyptic Russia, the wait is now over. As of today, the second piece of add-on content for Metro: Last Light, the Tower Pack, is officially available on Steam, PlayStation Network, and Xbox Live.
The Tower Pack is catered to all you fighters out there who love to get down and dirty with your enemies. It features a combat simulator in which players must fight their way up through a heavily guarded tower. The assault becomes more difficult with each level, forcing players to master Last Light's unique weapons and deep combat mechanics to reach the highest level. The DLC will also feature leaderboards which will allow gamers to compare their progress and success with other players. The Tower Pack will cost $4.99 / £3.99 / €4.99, but players who have purchased the Season Pass will get a discount on all four planned DLC packs.
The upcoming Developer Pack will feature a fully stocked Shooting Gallery, an AI Arena, and the Metro Museum, as well as a bonus solo mission called "The Spiders' Nest," which will offer some new tools for fighting Spider mutants. The Chronicles Pack will consist of three original single player missions that explore the stories of three characters from the original game: Pavel, Khan & Ulman, and Anna. The Chronicles Pack will explore these characters' side-stories away from Artyom's adventure.
The Season Pass can be purchased for $14.99 / £11.99 / €14.99 to give players access to all of the Metro: Last Light DLC, as well as an exclusive weapon, the Abzats.