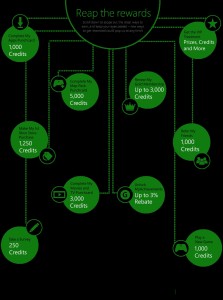 Microsoft Points are no longer the currency of choice in the Xbox Live Store. Now that everything is priced in dollars (or insert your own local currency here), Microsoft has revamped the Xbox Live Rewards program as well.
The system is now based on "Credits" and performing many of the same "missions" as before (filling out surveys, renewing your Gold membership, buying XBL Store content) will still desposit Credits into your Rewards. For example, if you fill out a survey, you'll receive 250 Credits. After you've obtained 5,000 Credits, Microsoft will deposit $5.00 into your Xbox Live account.
The biggest addition to the new Xbox Live Rewards program is the "Play A New Game" mission. If you buy a disc-based Xbox 360 game within 30 days of release and put ten hours into it, Microsoft will give you 1,000 Credits. The offer doesn't apply to downloadable games or older disc-based titles, so it's not a great deal, but at least Microsoft is taking a few tiny steps towards making the Xbox Live Rewards program worthwhile.
More information about the program (including a full list of "missions" and their requirements) can be found at rewards.xbox.com.