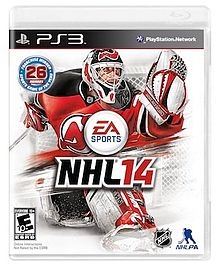 There's hockey, puppets, crossovers, alien wars, and ancient RPGs in this week's PlayStation Store update. For those who couldn't crack the code, I'm referring to…
NHL 14, EA Sports' latest hockey simulation.
Puppeteer, a new game from Sony Japan Studio that takes place in a magical puppet theatre (and, as far as I know, there aren't even any evil puppets).
Street Fighter X Tekken, the only crossover between these two fighting franchises for the forseeable future.
Killzone: Mercenary, which brings the franchise's alien war to the Vita for the first time this week.
And finally, Dragon Fantasy Book II is a PS3/Vita Cross-Buy title that brings back a few memories of the 16-bit RPG age.
There's more releases after the break and complete rundown of this week's new game add-ons is available at the PlayStation Blog.
PS3 Games
Puppeteer ($39.99)
Puppeteer is a brand new franchise developed exclusively for the PlayStation 3 system by SCE Japan Studio. Set in a magical puppeteer's theatre, this title will introduce you to a strange and fantastic world, where the environment is constantly changing. Players will enjoy a rich, dark fairytale where surprises lurk around every corner.
NHL 14 ($59.99)
Unlock the highest level of hockey aggression, speed and skill. NHL 14 brings together the best technology from EA Ssports to deliver the most authentic hockey experience ever.
Street Fighter X Tekken ($29.99)
The long awaited dream match-up between the two leaders in the fighting genre becomes a reality. Street Fighter X Tekken delivers the ultimate tag team match up featuring iconic characters from each franchise, and one of the most robust character line ups in fighting game history.
PSN Games
Sanctum 2 ($14.99)
Sanctum 2 is the sequel to the world's first Tower Defense/FPS hybrid game. Pick from four unique character classes and embark on a mission to protect the oxygen-producing Cores from hordes of deadly aliens who are threatened by their existence. In Sanctum 2, you will utilize elements from multiple gameplay genres to succeed. Construct towers and walls during the building phase and then jump into the fray and blast everything to pieces.
Hunter's Trophy 2: Australia ($9.99)
Experience all the excitement of the hunt in Australia! From buffalo to dingo,track 25 different prey in this hunting simulation set in the most beautiful countryside in Australia. Complete 30 hunting plans, play as your hunting dog during tracking phases and take on a friend in Ball-Trap mode!
Carnivores HD: Dinosaur Hunter ($12.99)
A hunting simulator that brings you to an ancient environment and lets you hunt for the most dangerous and the strongest creatures in the universe.
PS2 Classics
Mystic Heroes ($9.99)
Emperor Kang has escaped his prison. It is up to four mystics and their friends to defeat him before he plunges the land into chaos.
PS3 / PS Vita Cross-Buy Games
Dragon Fantasy Book II ($14.99 / PS Plus: $11.99)
Travel through the frozen wastelands of Tundaria, experiencing action packed battles without random encounters, using spatially aware Area-of-Effect attacks and power moves. Travel by pirate ship, defending against enemies in thrilling ship-to-ship combat! Defeat oncoming hordes of demons and huge bosses that threaten the entire world of Dragon Fantasy.
PS Vita Games
Killzone: Mercenary ($35.99)
Killzone: Mercenary for the PlayStation Vita system throws players into a deadly firefight as part of a ruthless Mercenary faction, one taking on paid contracts from not only the dangerous ISA but the vicious Helghast as well. War is Our Business.