Well kiddies, it's about that time… time to bid a fond farewell to the seventh generation of our favorite hobby. And what a generation it was! Lasting longer than any console cycle before it, this generation brought more than just some amazing titles. The console has become an all-in-one entertainment hub, as opposed to being "just a gaming system." From apps like Netflix and Hulu Plus to the advent of motion control and the renaissance of indie games, there hasn't been a better time to be a gamer. We have come so far in these past eight years, and the future looks brighter than ever.
As we play our Wii Us, and eagerly anticipate Microsoft and Sony's consoles with bated breath, I feel it's prudent to take a look back at this generation and discuss some of my favorite video games. Titles that left a lasting impression on us. Titles that will forever live in our collective memories as some of the most enjoyable experiences we've ever had.
Since there are so many amazing games, I've decided to list my favorites based on genre. In this article, I'm going to go with a new genre that emerged this generation: HD remakes. Love 'em or hate 'em, HD remakes helped older gamers relive fond memories, and gave a beautiful history lesson to people who recently discovered this hobby. Here are my favorite HD remakes of this generation.

Banjo-Kazooie
Originally Released: June 29, 1998
HD Remake Released: December 3, 2008
Highly regarded as one of the best games for the Nintendo 64, Banjo-Kazooie took elements created by Mario 64 and greatly improved upon them. Hell, many gamers (myself included) feel that Banjo-Kazooie was a more enjoyable experience overall. Released as an Xbox 360 exclusive (due to Microsoft's purchase of Rare), the remake of Banjo-Kazooie brought us the titular bear-and-bird team's first outing with smoothed edges and a fresh coat of HD paint, but still retained the original's charm and magic. I hadn't played the original since 1998, but as soon as I started playing the remake I found myself whistling along with the game like the past ten years never happened. And the fun I was having only showed that Banjo-Kazooie is one title that truly stands the test of time.

God of War: Origins Collection
Originally Released: March 4, 2008 (Chains of Olympus) and November 2, 2010 (Ghost of Sparta)
HD Remake Released: September 13, 2011
I never owned a PSP, so I never had the opportunity to try out the two titles included in this remake. But having these games not only playable on the big screen, but with better graphics, full HD and Stereoscopic 3D, and Trophy support? Sign me up! The God of War games are always a fun experience; having the updates with some added bells and whistles is always welcome. Now, I know what you're thinking: "Two titles? How is that fair?" Well, first of all, both games were included in one retail copy, so I believe it's fair to include both. And second, it's my article – so keep your trap shut.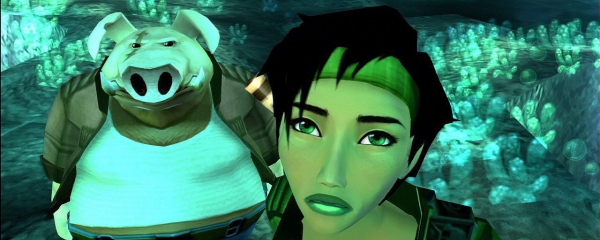 Beyond Good & Evil HD
Originally Released: November 11, 2003
HD Remake Released: March 2, 2011
If there is any argument for HD remakes, it's Beyond Good & Evil. One of the sixth generation's true tragedies, Beyond Good & Evil was an amazing title – an epic adventure filled with memorable characters and blockbuster moments – and the ending left us wanting more. Unfortunately, due to lack of marketing and the title taking a backseat to the release of Ubisoft's blockbuster Prince of Persia: The Sands of Time only a week later, Beyond Good & Evil was thrown into obscurity almost immediately. The game gained significant buzz since it disappeared, and it's usually the first title to come to mind when the term "cult classic" is brought up. I purchased the title at Toys R Us for $5.99, and it's the only title I actually felt guilty about buying at such a low price. Luckily, the HD remake brought the game to those who never would have had the opportunity to play it a decade ago. Pick this title up today, while we painfully wait for the sequel.

Halo: Combat Evolved Anniversary
Originally Released: November 15, 2001
HD Remake Released: November 15, 2011
The original Xbox's flagship title, Halo, was perhaps one of the most important games ever made. It gained Microsoft's fledgling system notoriety. It turned first-person shooters into a competitive sport. It branched out into novels, movies, and even toys. I remember playing the original in co-op mode with my buddy Jon when it first came out, and we were both blown away. I was awestruck at the open worlds and freedom in the title. I would just drive my Warthog aimlessly, taking in the beauty of this title. And now, after playing Halo: Combat Evolved Anniversary, I wondered what the hell I was thinking. If Beyond Good & Evil is a testament to HD remakes giving us a chance to play a game again, Halo: CE Anniversary is a testament to HD remakes showing us how far we have come in terms of graphics. To further drive home this point, the game includes the option to turn off the HD and play the game how it originally looked. Although I would highly suggest against it – for your own sanity.

The Ico & Shadow of the Colossus Collection
Originally Released: September 24, 2001 (Ico) and October 18, 2005 (SotC)
HD Remake Released: September 22, 2011
What is it with these remakes coming out ten years after the originals?
You can keep your Vice City and your Metal Gear Solid – when it comes to PS2 games, none will ever be as amazing as Shadow of the Colossus. Not only was it one of the greatest games I have played for the PS2, but it's near the top of my list for greatest games ever. The feelings of loneliness and isolation, followed by the anticipation of exploration, then the fear and adrenaline of fighting a colossus, and finally the sadness when it all ended stays with me to this day. Ico, too, was a beautiful title – proof that games don't have to be all run-and-gun. Both originals looked amazing, and the HD remakes made some amazing games astonishing. If there was only one HD remake to pick up, it'd be this one.
That's all for our HD remakes segment of the Re-warp. Stay tuned for more exciting installments (including "Horror," "2D Games," "New Characters," and more) in our look back at the seventh generation of gaming. Do you have a particular favorite you want to see us cover? Leave us a comment and let us know.