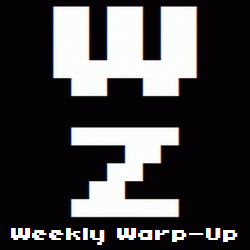 No, that's not a typo. Welcome to the Weekly Warp-Up, your weekly wrap-up of the biggest and the best articles posted at Warp Zoned this week…
Usually, I can find some kind of unifying theme to the events of the most recent week, but not this week. So welcome to the "Grab Bag Edition" of the Weekly Warp-Up, please don't be scared off by the randommness.
This week, we continued to dig into our Grab Bag of PAX Prime Goodies and came up with Hands-On Previews of Pokemon X/Y and the Borderlands 2 mini-expansion, T.K. Baha's Bloody Harvest. Speaking of PAX Prime, the show floor is home to a ton of indie developers and we here at Warp Zoned love indie developers. It's why we turn the spotlight on them at least once a month in our Kickstart This! column, which we did again this week.
Alright, enough with the ranom, you can find more news from this past week after the break.
The Week in Reviews…
The Week in New Games…
Amazing Paperboy Delivers…
It's A Secret To Everybody…
And Finally…
Mortal Kombat Legacy II is complete and the first episode will be available for public consumption on September 26.