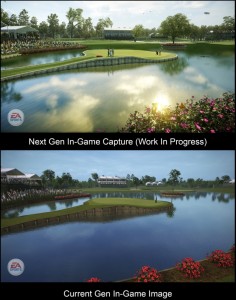 EA Sports has announced they're hard at work on their first next-generation PGA Tour golf game. But they've also confirmed that when it releases, it won't include a Tiger Woods endorsement.
Tiger Woods and EA first teamed up for 1998's Tiger Woods PGA Tour 99 and a new entry in the series was released every year for the next 15 years (culminating with this year's Tiger Woods PGA Tour 14). It's unknown if EA will enlist another athlete to be the game's featured golfer or if they'll revert to the "PGA Tour [Year]" styling.
However, EA was willing to share the first screenshot of the in-progress game. As you can see, the game includes considerably more detail than the screenshot from current-generation consoles. The publisher has also hinted that the next PGA Tour game may be offered through a DLC or free-to-play model:
EA Sports golf fans have always loved authentic courses and players, but they've also asked for more choice and customization in how and where they play. We're working on a new approach to deliver the best golf experience to our fans — we think you'll love it.
EA has promised that more information about the next PGA Tour game will be released soon.
[Source: The Beat – EA's Blog]