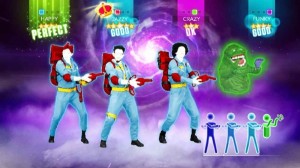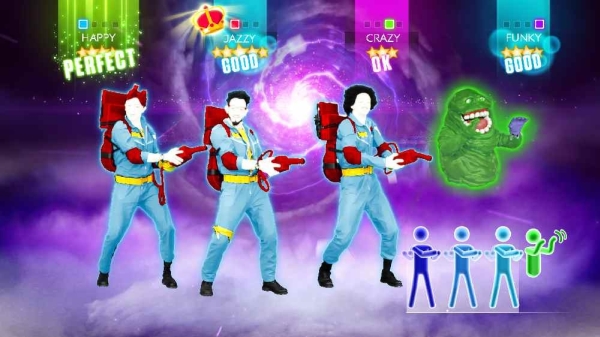 Get your dancing shoes on for this week's Nintendo Download as Just Dance 2014 will be able to download this Tuesday, October 8, on the Wii U eShop. If bustin' a move to the "Ghostbusters Theme" (among others) isn't your style, there's a bunch of other new releases on Nintendo's download services today:
TNT Racers: Nitro Machines Edition (Wii U), an overhead racer.
Family Bowling 3D (3DS), a bowling game.
Halloween: Trick or Treat 2 (3DS), a hidden object game.
Happy Circus (3DS), a minigame compilation for kids.
Picross E3 (3DS), the latest game in Nintendo's long-running picture puzzle series.
Rhythm Thief & the Emperor's Treasure (3DS), a rhythm game.
Jewel Quest 5: The Sleepless Star (DSi), a "match-3" puzzle game.
More details on all of these titles can be found after the break.
Wii U eShop
TNT Racers: Nitro Machines Edition – TNT Racers is a fun multiplayer game combining fast and exciting racing action with extra brand new features. The Shadow Race feature lets every player stay in the race even if a driver is clearly being outdriven. But the best things are the cool pick-ups which can ultimately decide if you win or lose.
Just Dance 2014 – The party is back! Just Dance 2014 is bringing new moves to more than 40 of today's hottest tracks and legendary hits. Take the fun to another level by playing with anyone in the world, leading back-up dancers or using the Wii U GamePad controller to dish out the next move to up to four other players. (Available on October 8)
3DS eShop
Family Bowling 3D – Family Bowling 3D is a game in which anyone can enjoy bowling with simple controls. A bowling game featuring Billy, Sarah, Daddy, and Mommy! The three game modes include Main Mode, where you'll battle your fellow family members; Free Play, where you can play as you like with 1-4 players; and Challenge Mode, where you can take difficult challenges head on! You can bowl however you would like by selecting your position, direction, speed, and curve. Aim for a perfect game in all of the five different stages we've assembled.
Halloween: Trick or Treat 2 – Halloween: Trick or Treat 2 is a superb HOG full of highly original scenes with lots of puzzles & mini games. There's a Shopping Mall, Witch's house, Halloween Fairground, Pirate ship and much more. The guys go Trick or Treating and see pumpkins and skeletons, witches, bats and ghosts all over the place. At the Halloween Fair they ride Bumper Cars, the Ghost Train and visit Dracula's amazing Castle before been captured by Pirates.
Happy Circus – So come and help Pierre and Julie find their friends' favourite objects! In Happy Circus, have fun while learning and exploring its funny world via four educational games.
Picross E3 – Picross E3 is a "Picture Crossword Puzzle Game" in which you use numbers as hints to complete illustrations. The rules are simple and easy to understand. Anyone can do it! Beginners and intermediate players alike will be able to enjoy these 150 all-new puzzles! The new Picross includes an all-new mode, "Mega Picross," which has "Mega Numbers," numbers which span two rows.
Rhythm Thief & the Emperor's Treasure – Feel the Rhythm, Beat the Mystery!! Pump up the tempo in the most mysterious rhythm adventure ever to hit the Nintendo 3DS. Raphael has a secret life as a heroic thief who is famous among Parisians for stealing famous works of art only to return it days later.
DSiWare Shop
Jewel Quest 5: The Sleepless Star – Follow the travails of intrepid explorer, Percy Pack, in Jewel Quest: The Sleepless Star. On a quest for a jewel called the Sleepless Star, Pack discovers that the jewel has been stolen from a Native American village by an unscrupulous jewel collector! Along with Percy and a beautiful Algonquin named Yellow Feather, travel to exotic locations on two continents and overcome dangers at every turn, in an effort to recover the jewel.