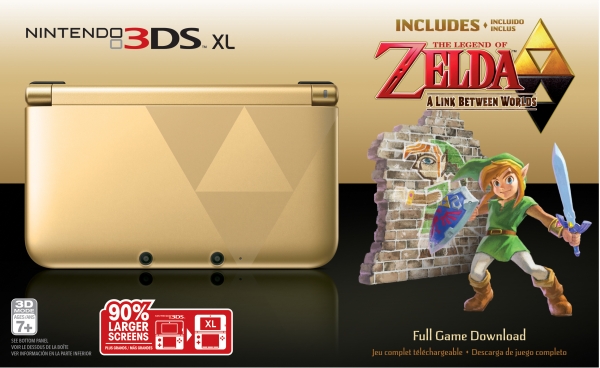 The Legend of Zelda is one of the most iconic franchises in all of the video game world. The name alone is usually enough to sell at least a million units. In fact, the only Legend of Zelda title not to hit the one million mark was The Legend of Zelda: Four Swords Adventures. Not bad for a series that contains almost two dozen titles.
With such strong success in the franchise's past, Nintendo is hoping to capitalize on the public's demand for more games starring Link, Zelda, and Ganon with their latest announcement. For those of you who don't own a 3DS, or for those who do and want something a bit more special, Nintendo will be releasing a special The Legend of Zelda: A Link Between Worlds system bundle on November 22. The bundle will include a 3DS XL adorned with a picture of the legendary Triforce on the exterior and complimented by a gold-and-black color scheme that fits the Legend of Zelda mythos perfectly. The spectacular system will come packaged with a download code for the new game, so players can show their Zelda pride by playing the newest Zelda game on the newest Zelda-themed system. Nintendo has priced the system bundle at $219.99.
Eiji Aonuma, the producer in charge of the Legend of Zelda franchise, wanted to share his excitement for the system bundle in a special video message, which you can find after the break.