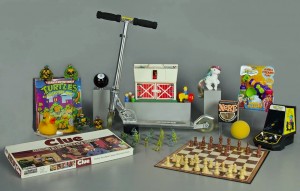 The National Toy Hall of Fame, which is part of the National Museum of Play at The Strong, has announced the 12 finalists that are up for induction this year. Two toys will be selected as part of the class of 2013 and the classic ghost-chomper Pac-Man is among the contenders.
Pac-Man will be competing against bubbles, Chess, Clue, Fisher-Price Little People, Little Green Army Men, Magic 8 Ball, My Little Pony, Nerf toys, the Rubber Ducky, scooters, and the Teenage Mutant Ninja Turtles action figure line for the right to be called a Hall of Famer. A national committee will choose the two inductees, which will be announced during a special ceremony on November 7.
If Pac-Man makes the cut, it will join Nintendo's Game Boy (2009) and the Atari 2600 (2007) as the only other representatives of the video game industry in the National Toy Hall of Fame.