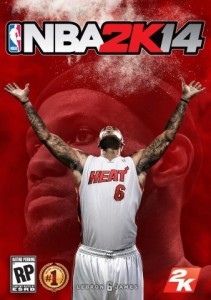 The rain has begun to fall on the PlayStation Store as Sony Japan's PS3 adventure game, Rain, is now available to download. The story of two invisible children who have to find their way out of a city, Rain has received considerable attention for its moody and atmospheric visuals. Also available this week is NBA 2K14 (PS3), the latest game in the popular basketball franchise.
What else is available this week for the PS3? Well, there's Flashback, Ubisoft's HD remake of the renowned side-scrolling; Pro Foosball, a video game version of everyone's favorite bar game; and Skydive: Proximity Flight, a skydiving sim. Finally, PS3 owners will get a chance to download the PS2 Classic Fatal Frame III: The Tormented.
Over on the Vita side, this week sees the release of Atelier Meruru Plus: The Apprentice of Arland. The RPG is now available in portable form and with all of its previously released DLC expansion content. And last, but not least, we've got Die! Die! Die!, a game that asks players to invade the human body to destroy malicious microbes. Because that's totally how being a doctor works.
As always, more information about all of these games can be found after the break and a full rundown of this week's new game add-ons can be found at the PlayStation Blog.
PS3 – Full Games
NBA 2K14 ($59.99)
NBA 2K13 was a monstrous release for the world's #1 NBA video game franchise, with more than 38 Sports Game of the Year and 'Best Of' mentions. NBA 2K14 will raise the bar yet again, providing the best basketball gaming experience for legions of sports fans and gamers around the world.
PS3 – PSN Games
Rain ($14.99)
Rain is the enchanting tale of a boy who embarks on a journey to save an invisible girl from ghostly creatures. Upon entering the world he discovers that he has also become invisible and must learn to navigate through the unknown, using the rain to guide and protect him.
Flashback ($9.99)
20 years after the original game's launch, Conrad is enlisted back to active service for the triumphant return of one of the most acclaimed franchises in gaming history. It is Flashback re-imagined. The original Core-Team revamped their own creation, leveraging the best of today's technology while remaining true to the classic side-scroller that set the standards of the genre in the 90's.
Pro Foosball ($6.49)
Play out your virtual career on a host of unique tables using your own formations and tactics – from hit-and-hope hoofing and tiki-taka total football, to bamboozling trick shots and unstoppable power drives.
Skydive: Proximity Flight ($19.99)
Skydive: Proximity Flight is a unique flying sim that puts you inside the suit for an amazing – and totally safe – extreme skydiving experience. With actual wingsuit flying, the suit restricts your motion, and the terrain can threaten your safety. In Skydive you can feel absolutely free. Learn mid-air tricks that only professional skydivers can perform, or make your own tricks alone or with friends. Lose yourself in this exciting airborne adventure with realistic graphics and sounds, and stunning aerial landscapes. Best of all: enjoy the intense adrenaline rush of wingsuit flying without putting yourself in any real danger!
PS3 – PS2 Classics
Fatal Frame III: The Tormented ($9.99)
Rei is haunted by the Manor of Sleep in her nightmares. When a cursed mark appears on her body, Rei sets out to uncover the secrets of the spirit manor.
PS Vita Games
Atelier Meruru Plus: The Apprentice of Arland ($39.99)
Atelier Meruru arrives on PlayStation Vita system with additional elements! Includes maps, characters etc which were available as downloadable content on the PlayStation 3 system, plus all new content! Explore Arland from a new perspective – anywhere, anytime!
Die! Die! Die! ($4.99)
Deep within the body malicious microbes hatch a plot on how to best disrupt the workings of the immune system. Using your PlayStation Vita system you can now travel deep within the human body. The journey will take you through the circulatory system, through the intestines, and to the nervous system. It will require of you not only efficiency, but also the ability to devise suitable tactics.