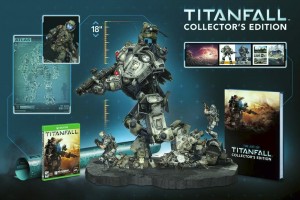 Electronic Arts and Respawn have announced that TitanFall, the winner of dozens of "Best of E3 2013" awards and the main reason many people are buying an Xbox One this Fall, will be released on March 11, 2014. TitanFall will also be released for the PC and Xbox 360 on that date.
In addition to the standard edition of the game, EA will also offer TitanFall for sale as a special Collector's Edition that will retail for $249.99. It will include an "18 inch hand-crafted Atlas titan statue with diorama and battery-powered LED lighting, a full-size art book featuring more than 190 pages of rare concept art, and a full-size schematic poster of the Atlas titan."
In honor of TitanFall's release date announcement, Respawn has produced a new gameplay trailer, which you can view after the break.