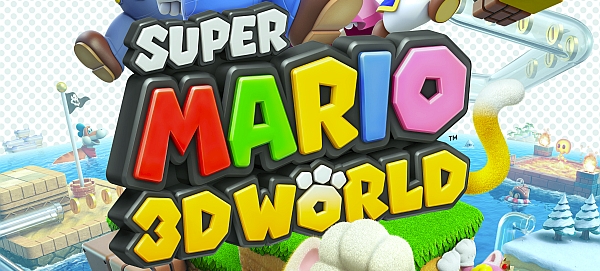 The big is almost here! In fact, we're just one day away! I refer, of course, to the launch of Super Mario 3D World and The Legend of Zelda: A Link Between Worlds.
What did you think I was talking about?
Anyway, new entries in Nintendo's biggest franchises will be available in stores tomorrow and digital download versions will land on, respectively, the Wii U eShop and 3DS eShop at the same time. The two massive games will also be joined by Mario Party: Island Tour, the first Mario Party game for the 3DS.
If you're looking for a new game that's available today, Wii U owners will also get the chance to download Edge, retro-style platformer, and Coaster Crazy Deluxe, a new coaster sim from the creators of RollerCoaster Tycoon 3.
More information on all of these games (and almost a dozen more) can be found after the break.
Wii U eShop
Coaster Crazy Deluxe – A new type of gaming challenge, from the creators of RollerCoaster Tycoon 3 and LostWinds. Coaster Crazy Deluxe takes you on a journey around the world (and to the moon) to build a cash-making coaster empire with ever-more insane creations. Unlock more special pieces, coaster cars and track types that let you earn even more cash, and meet the fiendish challenges posed by the Crazy characters in the game.
Edge – The award-winning, retro-style platform game has arrived on Wii U. Roll your way around the game's dozens of levels, search for all the prisms and find shortcuts, all while enjoying the 8-bit-inspired soundtrack.
The Mysterious Cities of Gold: Secret Paths – Play Esteban, Zia and Tao through numerous tricky levels full of puzzles, traps and stealth phases in a wide variety of diverse gorgeous settings. Explore every nook and cranny of China, and escape the children's enemies, searching for the local City of Gold.
Brawl Brothers – Get ready for a brawl in this side-scrolling beat-'em-up Super NES classic. Play solo or two-player co-op, and select from five capable martial artists of Bayside City. Set a score with the villains that have been suspiciously cloning humans – even people you know.
Super Mario 3D World – Leap into the first multiplayer Mario™ platformer set in a 3D world! Play as Mario, Luigi, Princess Peach and Toad – each with his or her own special skills. Climb walls with the new cat power-up to find secrets or pounce on enemies. Enjoy a solo romp or add friends for instant Mario multiplayer magic! (Available at midnight on November 22)
3DS eShop
Christmas Wonderland 3 – Christmas Wonderland 3 is crammed full of fabulous HOG scenes, lots of truly superb puzzles for players of all ages and Santa's Interactive Advent Calendar. In this sensational Christmas game, the Kids win the trip of a Lifetime and ride the Wonderland Express to the North Pole. They visit Santa's Workshop, meet his Elves and Rudolph. They ride a Skidoo to Town and see the Princess's Ice Palace, the Church and a Christmas Market. Suddenly it's Christmas Eve. The Kids fly on Santa's Sleigh, land on their friend's house before getting home. But there is a BIG… BIG… SURPRISE waiting!
Jewel Match 3 – Plunge headlong with Luna into a fantastic Match 3 adventure packed with magic, fantasy… and the insidious Evil. Exploit the power of the five Mages and conquer darkness in 100 huge Match 3 levels. Rebuild Nevernear's castles and create mysterious gardens to keep Evil at bay.
Ohno Odyssey – Ohno Odyssey is a physics-based, action-puzzle game that challenges players to guide the Ohno aliens through 35 gravity-defying stages as they roll on rails, jump and smash through obstacles, and zoom their way to the escape pod for safety.
City Connection – After breaking into a paint store in New York City, the cops are now coming after you! Carrying leaky 10-gallon paint cans, drive over every mile of New York City highways before catching a boat to England. From there, you will go on a tour of the world, avoiding the police and leaking paint all over the place. Your only defense: picking up oil cans left on highways and throwing them at police cars. Send the police for a spin, and knock them off the road as you make your getaway.
The Legend of Zelda: A Link Between Worlds – Two worlds collide in a new adventure set in the world of Super NES classic The Legend of Zelda: A Link to the Past. In this newly spun tale, Link transforms into a living painting to cross into Lorule, a dark, parallel dimension that mirrors Hyrule. Conquer the puzzles, traps and hidden rooms of deadly dungeons to save both worlds from certain doom. (Available at midnight on November 22)
Mario Party: Island Tour – Face off against friends and family in the first Mario Party game on Nintendo 3DS. Connect up to four players via local wireless and take on seven new game boards (additional systems required; sold separately), new modes that take full advantage of the unique features of Nintendo 3DS and more than 80 new mini-games (Available at midnight on November 22)
DSiWare Shop
Hands On! Tangrams – Hands On! Tangrams is a puzzle dissection game based on the 18th Century Chinese tile game. It allows gamers to manipulate geometric shapes to mimic real life objects, making you think outside the box!