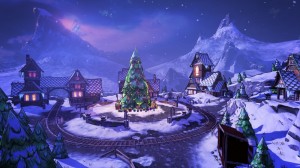 It's great to see that some games are still getting new content over a year after their release. Borderlands 2 was released in September of last year, and has since seen almost a dozen DLC options including full-size expansions like "Sir Hammerlock's Big Game Hunt" and "Tiny Tina's Assault on Dragon Keep" and smaller downloads such as the "Krieg the Beserker" character and this Fall's bite-sized "Headhunter Packs."
Speaking of Headhunter Packs, the latest one, "How Marcus Saved Mercenary Day," was recently revealed by Gearbox.
The downloadable content is the third installment in Gearbox's Headhunter series, which also includes the Halloween-inspired "T.K. Baha's Bloody Harvest" and the Thanksgiving-themed "Horrible Hunger of the Ravenous Wattle Gobbler." The newest Headhunter Pack will take place in a snowy town called Gingerton where players will explore Frost Bottom in an all-new mission, complete with unlockable heads and skins.
Best of all, "How Marcus Saved Mercenary Day" will be available on the Xbox 360, PlayStation 3, and PC (and Mac) tomorrow, December 17th.