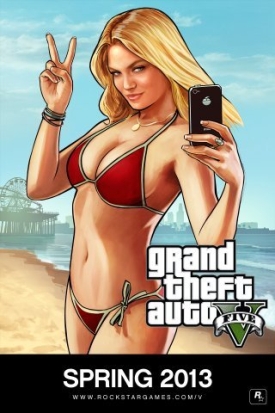 Would you like a little ridiculousness for your Sunday? TMZ is reporting that Lindsay Lohan is planning to sue Rockstar Games over the unauthorized inclusion of her likeness in Grand Theft Auto V.
TMZ's sources didn't know which game character the actress believes is based on her, but they point to a few possibilities, though none match up very well with Lohan:
The "Blonde Girl" used in a lot of the game's advertising. TMZ discounts this choice as the blonde bikini model is based on a real person named Shelby Welinder.
Lacey Jonas, a blonde actress who stars in "romantic comedies and cheerleader dance-off movies." Jonas appears in an optional mission where she asks the player to drive her home after an encounter with the paparazzi. It's unlikely Jonas is meant to be Lohan as she never rises above the level of "generic actress" during her scant three minutes of screentime.
Poppy Mitchell is probably the best (and worst) guess. She is a tall, dark-haired actress described as "America's Sweetheart." When the player meets Mitchell in the game, you learn that she is dating a blonde-haired teen heartthrob named Justin (a rather obvious Justin Bieber stand-in) and that she is staying at the Gentry Manor Hotel, which is based on the real Chateau Marmont Hotel. The mission ends with Mitchell crashing her car into a construction site. While Lohan has crashed her car several times and has previously lived at the Chateau Marmont, she's neither tall nor dark-haired. And I don't think she's ever dated Justin Bieber.
Since Mitchell's appearance in the game doesn't resemble Lohan in the slightest, the only thing Rockstar could have "stolen" from the actress is a few facts from her life. And sadly, she isn't the only actress in Hollywood with a poor driving record.