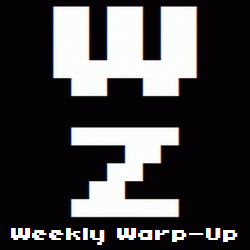 No, that's not a typo. Welcome to the Weekly Warp-Up, your weekly wrap-up of the biggest and the best articles posted at Warp Zoned this week…
Yesterday, we were treated to the first annual VGX Awards. The awards formerly known as the Spike TV Video Game Awards dropped the "Spike TV" part because it wasn't actually shown "live" on Spike TV. Instead, the world got a Cops marathon and had to watch the whole thing online (though a shortened recap will air on Spike TV next week). Oh, before I forget, Grand Theft Auto V took home "Game of the Year" honors.
This year's "World Premiere" trailers weren't too impressive, but we did get new/first looks at Tales From the Borderlands, Tomb Raider: Definitive Edition, Quantum Break, South Park: The Stick of Truth, Broken Age, Thief, The Witcher 3: Wild Hunt, Destiny, Telltale's Game of Thrones, Tom Clancy's The Division, No Man's Sky, and TitanFall.
Also, the staff of Warp Zoned has uploaded our look back at What We Played in November 2013 and an overview of The Games of December 2013.
And! There was one bit of huge news revealed earlier this week as Bungie has confirmed that Destiny, the first game in their "New Universe," will be released for the PS3, PS4, Xbox 360, and Xbox One on September 9, 2014. Bungie previously owned the mid-September release slot with the Halo series, so Destiny's release date could be a coincidence or it could be a preemptive strike against Microsoft and the 343 Industries-developed Halo 5.
If you're not too busy with new trailers, there's more news from the week that was after the break.
The Week in Reviews…
The Week in New Games…
Amazing Paperboy Delivers…
It's A Secret To Everybody…
And Finally…
Lindsay Lohan might be thinking about suing Rockstar Games. Rumor has it she thinks the developer stole her likeness and used it in Grand Theft Auto V without her permission. If you'll allow me to play Judge Judy for a second, I think that if Lohan goes forward with her lawsuit, she'll end up being found guilty of grand stupidity.