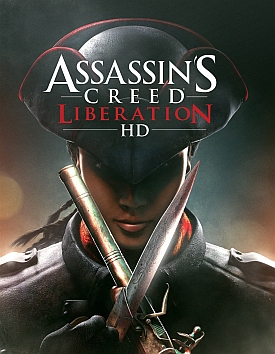 Sony has performed their weekly update of the PlayStation Update and added a quintet of new games to the digital download service.
This week's biggest release is Assassin's Creed: Liberation HD. Ubisoft is giving the Vita title a second lease on life as a downloadable title on the PS3. In addition to the HD makeover, the first female Assassin will be able to undertake new missions and new adventures.
Also available this week is Double Dragon, a one-on-one fighter originally released exclusively for the PSone in Japan. Best of all, it's based on the 1994 film that starred Scott Wolf, Robert Patrick, and Alyssa Milano.
Hit the break for more details on both of these titles as well as The Raven: Legacy of a Master Thief, a PS3 adventure game, and a pair of Vita games: Age of Zombies!, a comedy adventure, and Doodle Devil, a puzzle game with a sinister twist.
A complete list of this week's new game add-ons and PlayStation Plus additions can be found at the PlayStation Blog.
PS3 Games
Assassin's Creed: Liberation HD ($19.99)
The year is 1765. While the seeds of the American Revolution are being sewn in Boston and New York, Spanish forces in the South plot to seize control of Louisiana for the Templars, threatening to forever shift the balance of power in the New World. As Templars secretly take hold of the slave trade in New Orleans, Aveline de Grandpré, an assassin of mixed French & African heritage, stands ready to defend her people. She soon finds herself on an unforgettable journey that will take her from the crowded streets of New Orleans to voodoo-haunted swamps and ancient Mayan ruins. Whether eliminating her enemies with new assassination skills or luring them into cunning traps, Aveline strikes mortal fear into the hearts of those who would stand against freedom.
The Raven: Legacy of a Master Thief ($29.99)
The Raven: Legacy of a Master Thief is the thrilling crime adventure from the creators of The Book of Unwritten Tales. Full of twists and turns, it immerses you in both sides of the story, combining thrill-of-the-chase whodunit with a heist story.
PS Vita Games
Age of Zombies! ($4.99)
From Halfbrick, the creators of Fruit Ninja and Jetpack Joyride, comes an unforgettable comedy adventure! Lock and load through the history of time as wisecracking hero Barry Steakfries, who is looking for nothing more than to shoot some zombies and make it back in time for a hearty dinner.
Doodle Devil ($5.99)
Embrace your dark side! While Doodle God was creating the universe, Doodle Devil was also having some fun. The same addictive, puzzle game play that made Doodle God a hit is back but with an evil twist. Discover the seven deadly sins and watch as the world crumbles at your fingertips as you create thousands of dastardly deeds. Combine fire, earth, wind & air to create demons, beasts, zombies… and much more!
PSone Classics
Double Dragon ($5.99)
Based on the classic Double Dragon beat 'em up series and movie, this import is a unique one-on-one fighting game that inspired many others. This version of Double Dragon includes 10+ anime-inspired characters to choose from, each with their own special moves and desperation "super" attacks alongside detailed, scaling backgrounds.